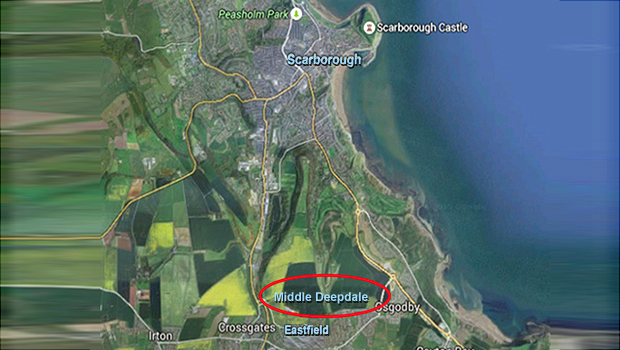 A Letter to the Editor from County & Borough Councillor Tony RANDERSON [Lab.], taking to task the Scarborough News for sloppy and misleading reporting of a contentious new housing development within his area of responsibility.
~~~~~
Dear Editor,
You may have seen the 'article' on this 'New Town' between Scarborough and Eastfield, duly 'reported' by the Scarborough News.
This 'New Town', as depicted by this local 'rag', on behalf of the developers of the massive new housing estate, is in my view some of the worst reporting of my Division and Ward that I have ever had the misfortune to read. This said, as I have previously reported to the NYE, the new school for Overdale is coming to fruition, after much lobbying from myself, and is due to be built on this new development IN Eastfield 2019/20. The SN did manage to get that part correct.
There really is no wonder that more and more citizens are reliant on social media outlets for genuine local news. Certainly, I have become heavily reliant on such for my work within Eastfield and Osgodby.
So apparently there is a 'New Town' springing up between Scarborough and Eastfield, at the Middle Deepdale site.
Note: not in Eastfield, but between Scarborough and Eastfield.
This is a scenario I have continually argued against ever since I was elected, some five or more years ago. I argued against creating a two-tier Eastfield – one tier for the existing generations of Eastfield residents and one tier for residents of this new development.
Very clearly, the developers have their own agenda, backed up by this disgraceful 'reporting' in the 'article' in the Scarborough News. Obviously, little or no investigative journalism went into this article. No-one approached me prior to this article being published to ascertain if there were any comments I may have as the County and Borough Councillor representing this area.
There is no mention at all of Eastfield in this article, apart from the fact this 'new town' is between Eastfield and Scarborough. What absolute and utter clap-trap. This new development is smack bang IN Eastfield.
The genuine fear I have always felt with regard to this new development has been over the strong possibility of a wedge being driven between the generations of Eastfield families and this new development's residents. I was assured time and again by Officers and Cabinet Members of both local authorities that this would not be the case; this was to be one community, called Eastfield. Well, so much for those assurances, I am sad to say.
The SN article has further compounded my fears, as I am sure it likewise will have done to those long-standing Eastfield residents I have referred to above. It does seem to me that there is a definite push by the developers, aided and abetted by the Scarborough News, to distance themselves from the Eastfield community.
In this same article, it refers to another development at High Mill in Scalby – not between Scarborough and Scalby but IN Scalby. More fuel for the fire, I believe, regarding my fears.
The other wonderful part of this non-investigative piece of journalism refers to Jazz Court on this new development as a Nursing Home. Wrong! It is an a Extra Care Facility. The Scarborough News couldn't even get that simple fact correct.
As I said, is there any wonder that I, along with many others, value the North Yorks Enquirer local news outlet over the local rag laughingly called the Scarborough News?
Kind Regards,
Tony.
Tony Randerson.
Mob 07926 226904.