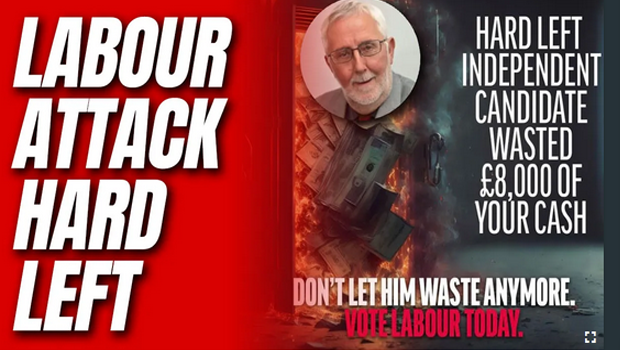 RANDO Romps Home
– an "In My View" article by NIGEL WARD, reporting on the North Yorkshire Council by-election for the Eastfield Division.
~~~~~
Despite one of the vilest election campaigns in living memory in North Yorkshire, recently-resigned former Labour member Tony 'Rando' RANDERSON romped to a facile victory in the by-election in Eastfield (held on Thursday 25th May 2023), after refusing (quite rightly) to 'walk the floor' (shorthand for changing party mid-term, without giving electors the opportunity to decide if they are still prepared to provide a mandate, having previously supported the candidate of the party of their choice). RANDO fought the by-election as an unaffiliated candidate.
The above image, 'borrowed' from the Guido FAWKES 'Order-Order' website – regular reading for most parliamentarians –  is followed by this 'explanation' of events:
The article concludes with a side-swipe at another former Eastfield Labour Councillor – Theresa 'Gluey' NORTON – who grabbed local and national news coverage following repeated arrests for taking part in the infamous Just Stop Oil motorway blockades (and missing a Council meeting because she was 'stuck on the motorway').
THERESA 'Gluey' NORTON
Following Labour's attack on 'deserter' RANDERSON, the tenor of the by-election soon sank even lower. The first hint came via a 'statement' from the Scarborough & Whitby Conservative Association, distancing the Tories from the whole sordid affair:
The received wisdom is that the 'victim' of the alleged threats and intimidation was the Liberal Democrat candidate, one Erica Danielle WILLETT, who was allegedly threatened with having her own campaign leaflets thrust through her letter-box clarted in dog poo – or worse.
To his credit, newly-elected Councillor RANDERSON managed to rise above these gutter tactics – with the Labour, Conservative, LibDem, Green and Independent candidates all thrashed out of sight:
In my view, this result should be seen as a widespread rejection of 2/3 party politics.
Whether or not one is a fan of Councillor RANDERSON, it bears emphasising that he has served the people of Eastfield conscientiously for many a long year and I, for one, am happy to see that almost half of those who turned out voted for the man – and not the party.
Well done, Tony.
NYC Councillor Tony Randerson