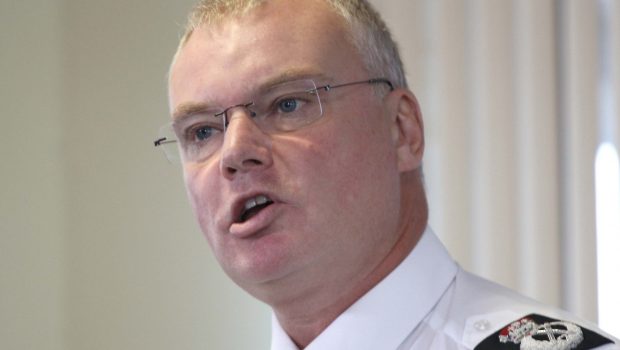 Cleveland Police: A Force in Trouble

by Tim Hicks and Chris Clark
~~~~~
Introduction
Cleveland Police area of responsibility borders the Northern edge of the North Yorkshire Police (NYP) boundary. Chris Clark and I have covered three unsolved murders in Cleveland as part of the NYE Christopher Halliwell investigation. NYE article from October 2018 here.
As a result of this we were subjected to a police information warfare operation by Cleveland Police aimed at preventing our coverage. Full story here.
Then in November 2018 Naomi Corrigan of the Teesside News broke the story that an investigation by Her Majesty's Inspectorate of Constabulary, Fire and Rescue Services had severely criticised the conduct of all three of the murder investigations the authors investigated. It also indicated that there had been substantial child sexual exploitation offences in Cleveland which had gone unrecorded. Her article can be read here.
Now it has been announced that Cleveland Police's most senior detective Detective Superintendent Jon Green and Superintendent Beverley Gill have been suspended from duty, over allegations of unlawful surveillance of journalists. Both Officers are former heads of the Cleveland Police Professional Standards Department. Article by the Northern Echo's Julia Breen here
Suspended from Duty
Detective Superintendent Jon Green, Head of Cleveland Police CID and former Head of Cleveland Police Professional Standards.
Cleveland Police, a history of corruption scandals
This is the latest in a long line of scandals for Cleveland Police:
In 2011 Detective Chief Inspector Heather Eastwood was arrested at Northallerton, North Yorkshire for being drunk and disorderly after she swore at medics and NYP Police Officers and tried to kick them. She had been the staff officer for Chief Constable Sean Price and they subsequently married. She gave a false employer, was released without charge and Chief Constable Price picked her up. Neither officer reported the incident to the force, although they had a duty to do so. The Independent Police Complaints Commission (IPCC) recommended she should face a gross misconduct charge Ms Eastwood denied any misconduct and was allowed to resign from Cleveland Police thereby avoiding a disciplinary hearing. There would also have been a case for misconduct against Chief Constable Price, but he had already been dismissed form the service.
In August 2011 Chief Constable Sean Price was suspended from duty on full pay then sacked in October 2012 for misconduct. BBC Article here.
In April 2012, Cleveland Police paid over £800,000 to former PC Sultan Alam after Cleveland Police admitted that officers suppressed evidence that lead to Mr Alam being wrongfully imprisoned for conspiracy to steal motor parts after he had complained of racial discrimination. BBC article here.
In August 2012 a detective was arrested for perverting the court of justice over allegations that his work was substandard and had affected 90 investigations. Daily Mail article here.
In March 2013 Deputy Chief Constable Derek Bonnard was sacked for misconduct. Northern Echo report here, BBC report here.
In 2013 Cleveland Police Authority Chair Councillor David McLuckie was jailed for eight months for attempting to pervert the course of justice over persuading a friend to accept speeding points for him. There were also allegations that Cleveland Police had buried allegations of a sexual offence against him. Northern Echo Special Reports by Graeme Hetherington here. It was also alleged that Cleveland Police had buried an allegation of a sexual offence against Councillor McLuckie. Northern Echo Special Investigation by Joe Wills here. No charges were preferred.
Bonnard, Price and McLukie NYE coverage here.
Chief Constable Chair of the Cleveland Police Authority David McLuckie [left] (Jailed)
and Chief Constable Sean Price [right] (Sacked for misconduct).
In July 2014 Mrs Irene Collins aged seventy three died after being bitten by police dog "Dano" during a drugs search. It had a history of eleven previous attacks and had been sold to Cleveland by Thames Valley Police for a low price. Superintendent Bev Gill who commanded the Cleveland Police Dog Section gave evidence at her inquest that Cleveland Police wanted dogs that had a high drive to work, were "sociable and well balanced", but could cope with Middlesborough FC matches, because the fans were volatile. Teesside Gazette article by Mike Brown with more information here.
In May 2013, Cleveland Police paid £500,000 to solicitor James Watson, for false imprisonment of him and family members, following his successful defence of one of his clients. BBC report here.
In February 2015 Cleveland Police settled an action against Chief Constable Sean Price to reclaim £500,000 in salary and bonuses, accepting instead £23,000. BBC report here.
In August 2017 the Investigatory Powers Tribunal found that the Cleveland Police Professional Standards Department had abused the Regulation of Investigatory Powers Act to tap the phones of two former officers, journalists and a solicitor. The full story can be read in these excellent articles by Julia Breen and Graeme Hetherington of the Northern Echo. The two police officers, Mark Dias and Steve Matthews claim they were targeted for exposing allegations of institutional racism in Cleveland Police over the Sultan Alam case above. His Honour Sir Michael Burton from the United Kingdom Investigatory Powers Tribunal found that there was no proof of criminality and no evidence of Cleveland Police taking any legal advice to support its actions. The Officers' legal team observed that the "force's casual disregard for the legal framework beggared belief".
In November 2018 Inspector Simon Hurwood of the Cleveland Police Professional Standards Department was found guilty of eight charges of gross misconduct and eight of misconduct after coercing police staff for sex in a police car and his office. He had resigned from the force before the hearing and there was insufficient evidence to charge him with a criminal offence. Superintendent Beverley Gill was suspended over allegations that she had failed to take appropriate action against Hurwood.
Superintendent Bev Gill and sex pest Inspector Simon Hurwood
In January 2019 Chief Constable Mike Veale (Pictured in the lead illustration above) resigned in disgrace, following allegations of inappropriate behavior towards two female officers. In September 2018 he was found to have lied to the IPCC over allegations that he had damaged his police mobile 'phone. Telegraph article here.
In May 2019, PC Paul Youll of Cleveland Police escaped prosecution after his police dog launched an unprovoked attack on an innocent athlete. He was acquitted when it emerged that the dog had been assessed by West Mercia Police as only suitable for use as an "attack dog", not for use as a general purpose police dog. As with the death of Mrs Collins the dog had been bought for an unusually low transfer price. Superintendent Bev Gill knew of a previous incident involving the dog, but was not aware of this assessment when she signed off on the purchase of the dog for Cleveland Police. Teesside Gazette article by David Huntley with more information here.
Where to now for Cleveland Police?
Cleveland Police seems to be incapable of performing to a normal acceptable standard. It was described in The Times as the worst police force in Britain. Despite all of the scrutiny, findings, criticism and promises of reform following scandals involving racism, sexual abuse, financial scandals and abuse of police surveillance powers against whistle-blowers, lawyers and journalists, Cleveland Police is still carrying on in the same old way.
Worse, some of these scandals involve the Professional Standards Department which is responsible for maintaining police discipline, not undermining it. The following conclusions are inescapable
These abuses appear to be institutionalised within the culture of the force.
It is a force whose Chief Officers are unable to reform.
Cleveland Police was formed in 1974 as an amalgamation of Teesside Constabulary with part of the York and North East Yorkshire Police and part of Durham Constabulary. Other than the unique area of 1.1. square miles covered by the City of London Police, its police area is the smallest geographically in the UK. The individual operational areas (BBC report here), Dog Sections and serious crime investigations (Yorkshire Post article here) of North Yorkshire, Cleveland and Durham police forces are merged as part of their Evolve Programme to "save money and become more efficient".
It would be difficult enough to justify the expense of maintaining a force headquarters, Chief Constable, Deputy Chief Constable and Assistant Chief Constables for such a small force which has merged many of its functions into its two neighbours, even without the constant stream of corruption scandals. Under the present circumstances, it is impossible.
The only effective solution to obtain efficiencies and higher professional standards from Cleveland Police is root and branch reform. That is, to merge Cleveland Police with Durham Constabulary or split it between North Yorkshire Police and Durham.