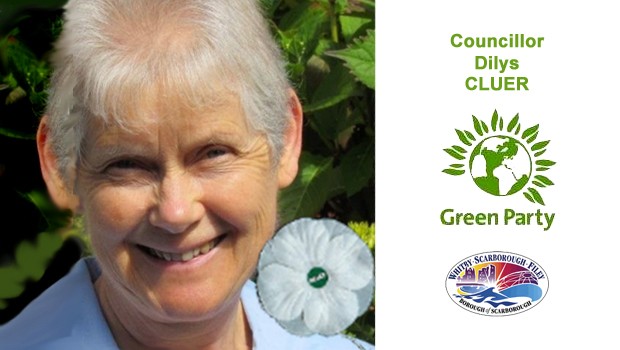 A Letter to the Editor from Dilys CLUER of Scarborough, who writes as a nominated candidate for the Greens in the forthcoming Scarborough Borough Council elections, where she presently serves as ward Councillor for the Stepney ward.
~~~~~
Dear Editor,

My wishes for a better world in 2015 may be decried by some as utopian: peace, fairness, increased equality, better health and health care, a climate agreement which really works . . .

But don't most people put health and personal relationships at the top of their list when it comes to happiness? You want to live secure from harm, surrounded by people who respect and love you, with enough to live on and interesting things to do.

We are in an election year and I hope people will vote for what they really believe in after careful consideration, not blindly following a prejudice or a party line. If that happened, you would be surprised at the results – see voteforpolicies.org.uk   I do hope at the very least that both nationally and locally we will not have any one party in overall control, since that would not be a true reflection of people's wishes. And of course I want to see more elected Greens!

An old Green saying is 'think globally, act locally'. This is what I try to do by supporting the Choices4Energy service (helping people to save energy, carbon emissions and money), encouraging local businesses, opposing fracking, and encouraging recycling.

Other options locally are constrained by 'austerity' which has been forced on us by the Government after their friends the bankers were bailed out, and which is being used as an excuse to 'shrink the state' and hand over services such as health to the private sector. All local politicians can do is protest and resist as much as possible, and work together to make the most of what we have.

So let's go into the new year with resolutions to work for co-operation, openness, integrity, democracy and living within the limits of our planet home.

Regards, etc

Dilys
Dilys CLUER, Scarborough. 2nd January 2015.