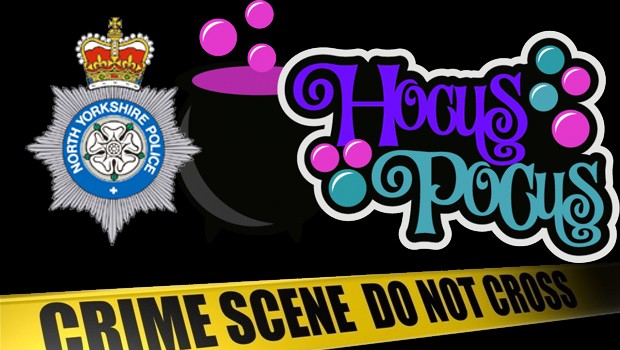 UPDATE:  Operation Hocus Pocus – A Resounding Success For North Yorkshire Police
Crime & Parliamentary Affairs Correspondent TIM HICKS up-dates readers on the nation-wide investigations into child sexual abuse (CSA).
~~~~~
Current on-going historical abuse investigations
A very good article in the Daily Mail caught my eye recently, it summarises all of the ongoing historic child abuse investigations currently being conducted by the British Police service. Taking this and other sources, they are as follows: 
Metropolitan Police
Operation Midland into the Westminster paedophile ring.
Operation Yewtree into Jimmy Savile and his associates
NYE investigation into Savile and a Westminster paedophile ring here.
Operation Fairbank an investigation into a powerful paedophile network linked to Parliament.
Eleven other investigations. Information here and here.
Nottinghamshire Police 
Operation Daybreak and Operation Xeres into abuse at children's homes.
Durham Police
Operation Seabrook, an investigation into Medomsley Road Detention Centre .
Cumbria Constabulary
Operation Tweed an investigation into allegations of abuse at Underley Hall, and Witherslack Hall School.
Sussex Police
Operation Dunhilll and Operation Perry into allegations of child abuse by members of the clergy.
Humberside Police
Investigation into St William's children's home.
West Yorkshire Police
Five separate investigations, including one at St Stephen's Church in Kirkstall, Leeds. 
Greater Manchester Police
Four separate investigations into Knowl View and Cambridge House children's homes, Rochdale; Broome House care home, Didsbury, and Woodend children's home, Wigan.
Cheshire Police
Nine investigations, including one at Terra Nova prep school.
National Crime Agency
Investigation into North Wales care homes.
Norfolk Police
Six investigations.
Leicestershire Police
Two investigations into Ex ­MP Lord Janner and Roecliffe Manor home near Loughborough.
Warwickshire & West Mercia Police
Four investigations. One at Manor Court Children's Home in Nuneaton.
Northamptonshire Police
One investigation into Cyril Smith.  See NYE comment on this investigation and links to MI5, Metropolitan and Lancashire Police.
Bedfordshire Police
Investigation into St Francis' Boys' Home, Shefford.
Suffolk Police
Investigations at schools at Great Finborough, Stowmarket and Kesgrave.
Dyfed­ Powys Police
Investigation into Rhydygors School, Carmarthen.
Gwent Police
Two investigations at schools in Chepstow.
South Wales Police
One investigation into former House of Commons Speaker Viscount Tonypandy.
Avon & Somerset
Investigation into a Bristol care home.
Surrey Police
Walton Hop disco investigation re-opened.
Kent Police
Swaylands School, Tonbridge.
Greater Manchester Police
Sir Peter Fahy called on to step down
Police Service of Northern Ireland
Investigation into the Kincora Boys Home which is also alleged to implicate MI5.
National Crime Agency
Investigation into North Wales Care Homes.
North Yorkshire Police 
Not Mentioned.
North Yorkshire Police Not Mentioned
But wait a minute.  North Yorkshire Police Not Mentioned?

WHAT? Why is that? The major failures to arrest Savile and wind up the Westminster and Scarborough paedophile-rings all occurred in North Yorkshire:
The failure by Police Officers that served in Scarborough and Whitby to arrest Savile's co-offender and fellow rapist Peter Jaconelli – although his offending was common knowledge in Scarborough going back to the 1950's – which would surely have led the Police to Savile.
The failure to arrest Savile as a result of allegations, made by witnesses to the NYE, that Scarborough Police had received about Savile going back to the 1970's.
The failure to properly investigate information it now admits it received from a 15-year-old girl in 2002 regarding Savile.
The failure of North Yorkshire Police to investigate allegations about Jaconelli it received in December 2008 and January 2009.
The failure by the Force Intelligence Bureau to pass on the intelligence held on Savile to Surrey Police in 2007, instead giving him a clean bill of health, which ensured the failure of the Surrey investigation.
The failure by the Force Intelligence Bureau to pass on intelligence to the Metropolitan Police Operation Yewtree in 2012, on Savile and Jaconelli.
North Yorkshire Police knew all about the Scarborough ring – yet did nothing and kept what it knew to itself.
North Yorkshire Police are also under investigation by the IPCC for its failure to investigate fully intelligence received from a highly successful police investigation conducted by the Toronto Police Service into a major international paedophile ring
So why is it that North Yorkshire Police are not mentioned in the above article and have fallen off the radar?
Operation Hibiscus:  A case of premature eradication
Operation Hibiscus was led by Detective Superintendent Steve Smith, Director of the Force Intelligence Bureau, the Department under investigation for the Operation Spade fiasco.
It essentially admitted (after four previous investigations that were cover-ups) that there had been a major paedophile-ring operating in Scarborough which NYP knew about and failed to act upon – as consistently alleged by the North Yorks Enquirer. The investigation was started solely due to media pressure from the NYE team and Real Whitby following a BBC 'Inside Out' investigation BBC investigation
Television statement by ACC Paul Kennedy here:  here
In his statement above, ACC Kennedy refused to comment further on why his force failed to arrest Savile and Jaconelli. Operation Hibiscus was then closed. It has become known locally as Operation Hocus Pocus because nothing has been said about the following aspects of the case, which have all been conveniently ignored and kicked into the long grass:
School children being enticed into prostitution by Jaconelli using his position as a School Governor.
The other members of the ring, including one woman known to have acted as procurer and another suspected of it.
Trafficking of patients from Rampton Hospital by Savile, to meet Jaconelli and Corrigan.
The Ippon Judo Club offending.
Offending at Jaconelli´s ice-cream parlours.
Offending at the schools Jaconelli was Governor of.
Trafficking of children for prostitution in motor homes.
Savile's sleep-over at a boy scout camp in Doncaster with Mr Jimmy Corrigan in a motor home.
Youths being trafficked to Queen Elisabeth II Barracks for prostitution and covert filming
Trafficking in paedophile pornography to the Dutch sex industry.
No cold case review of unsolved sexual offences from 1947 to 2009.
The connections of the Scarborough ring to the Westminster paedophile ring.
If Jaconelli was on the dossier passed by the late Geoffrey Dickens MP to Whitby MP Leon Brittan, who was also Home Secretary at the same time Jaconelli was a leading member of his Conservative Association.
If Savile was in the Dickens dossier
What significance – if any – has the Middle Earth Tavern, which had a whipping-post and was searched by North Yorkshire Police for a body last year.
The Coven said to be operating locally.
The set based around Michael's/the Penthouse Club, in Scarborough.
The Metropolitan Police investigation into the alleged murder of three children (Operation Midland), which the Police know may be connected.
No cold case review of unsolved disappearances of children.
Bribery of Scarborough Police Officers by Jaconelli.
Scarborough and Whitby Police ignoring complaints about Jaconelli and Savile and intimidating witnesses.
Allegations that Jaconelli had a flat(s)  in Scarborough with young men resident for immoral purposes.
How all the intelligence, including that collected during a major paedophile investigation in 2003 miraculously disappeared from the  North Yorkshire Police Force Intelligence Bureau computer systems, when the truth about Savile and Jaconelli started to emerge. But has now miraculously reappeared when the Police are forced to admit the truth by witnesses coming forward.
Why the IPCC exonerated North Yorkshire Police from any failure in its Savile investigation, when in fact it subsequently had to admit that there was a major paedophile ring that it had missed and then referred itself to the IPCC.
The need for disciplinary action to be taken against ACC Cross and the other officers involved in the previous four investigations. Which were all cover-ups.
The possibility of disciplinary action being taken against Commander (Ret'd) Moir Stewart of the IPCC for his inadequate investigation into North Yorkshire Police and Jimmy Savile.
This represents a major success for North Yorkshire Police, which has obviously never wanted a full and rigorous enquiry. It has effectively weathered the storm of media criticism.
Acting in the public interest, the North Yorks Enquirer is continuing to press for an impartial investigation into the Scarborough ring and the protection it received from North Yorkshire Police. We are forwarding additional evidence to the Home Office Enquiry by Her Honour Justice Goddard as it becomes available, so that there is some possibility of getting to the truth. It will not emerge while the IPCC and North Yorkshire Police conduct the investigation.