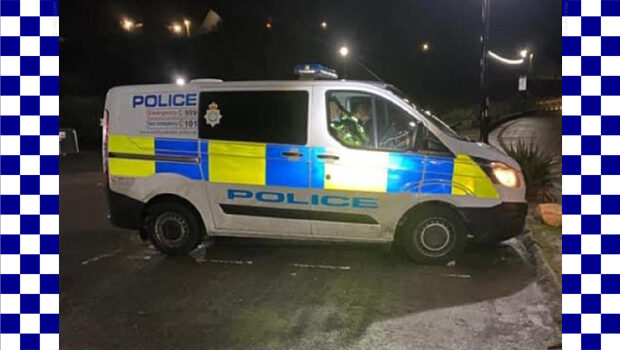 Sleeping Beauties: The Chief Bites Back
Another in our series of articles on Officers from North Yorkshire Police (NYP) betraying the public confidence and endangering life by blatantly flouting the Coronavirus regulations, while enforcing them on other people.
In this article, our crime and parliamentary affairs correspondent Tim Hicks reveals that Chief Constable Winward has given herself and over thirty other Officers of North Yorkshire Police immunity from investigation or prosecution, for breaching the Coronavirus Lockdown regulations or pulling over to a lay bye to sleep, when they should have been on duty.
She has been backed up in this decision by Police Fire and Crime Commissioner Julia Mulligan, who is responsible for holding the Police to account.
The full story of these amazing revelations is below.
~~~~~
Non-Essential Journeys 28
by TIM HICKS
~~~~~ 
Introduction: The NYE holding the Police to account
Regular readers will know that the NYE has offered a reward of £25.00 for photographs of Police Officers of North Yorkshire Police (NYP) breaching the regulations.
This has proven to be successful and a series of witness accounts and photographs of Police Officers apparently breaching the Coronavirus Lockdown Regulations have been provided to the NYE.
Whilst the NYE has offered a reward for photographs of Police Officers breaching the coronavirus regulations, this is standard journalistic practice. On receipt of evidence of Police misconduct, we have notified the Chief Constable of it. However the NYE has never issued financial rewards to raise complaints.
In the 1993 case of Derbyshire County Council -v- Times Newspapers, the Law Lords ruled that it was vital that the public were free to criticise public bodies:
"It is of the highest public importance that a democratically elected governmental body, or indeed any governmental body, should be open to uninhibited public criticism."
NYP is now under quite effective scrutiny by the NYE and its readers and this has revealed a complete failure of leadership by Chief and Senior Police Officers and fundamental failings in the Force response to the coronavirus emergency, which is endangering the lives of Police and public alike.
Coronavirus Lockdown Regulations: One rule for North Yorkshire Police and one for the rest of us 
The breaches of the regulations by Police Officers in North Yorkshire so far identified by NYE journalists and our readers are summarised below:
Cleveland Police motorcycle tourists fish and chip expedition: Three motorbike Officers from Cleveland Police visited Whitby, parked up on the Fish Pier and were all seen having a wonderful time sitting on the same bench in the sun, feasting on fish and chips in full view of the public, then viewing a holiday cottage together unmasked and ignoring social distancing.
Clifton Moor shopping patrol: One of our readers recently photographed two Officers from North Yorkshire Police (NYP) in York who were openly wandering around without masks and ignoring social distancing at the Clifton Moor Shopping Centre, York.
Chief Constable's away day trip to Skipton: Chief Constable Winward undertook an unnecessary visit to Skipton Police Station, thereby risking spreading the virus from Skipton Police Station into Force Headquarters and vice versa.
Deputy Chief Constable's (DCC) visit to Scarborough: DCC Phil Cain visited Scarborough Police Station, thereby risking spreading the virus from Scarborough Police Station into Force Headquarters. While he was there he posed for photographs with a long serving officer without masking up or observing social distancing and attended a ceremony to celebrate her fifty years of service.
Force Headquarters uncovered: This video by a YouTube blogger shows masked and unmasked staff sharing an office at NYP Force Headquarters at 2.00. At 3.09 it shows an inspector and two constables not maintaining social distancing inside Force headquarters, one of whom is not masked.
Fulford Road Police Station uncovered: This video by a YouTube Blogger was taken at Fulford Road Police Station, York. At 3.22 a member of Police staff is shown in a room with another member of Police staff unmasked. He is maintaining the two metre social distance. It is unclear which desk is his, or if it is within two metres of the masked member of Police staff. However a third female member of Police staff who is masked is seen moving through the office. It is unclear if she is within two metres of him, but this would indicate that he should have been masked. At 8.22 PC Moseley is seen unmasked when his colleagues are masked and he is within two metres of a female colleague.
The Filey Police Station fish and chip patrol: Eight Police Officers from Filey Police Station were caught in an NYE surveillance operation. They were photographed partially in uniform, but not wearing a mask or observing social distancing, visiting a cash point together and buying fish and chips.
The Sleeping Beauties: The incident which has caused the most public anger is shown above. Two Police Officers unmasked and are alleged to be asleep on duty in their van, having pulled over to get some sleep when they should be on duty.
In summary, over thirty-three Police Officers and members of Police staff have been identified by the NYE and its correspondents as potentially breaching the lockdown regulations at multiple locations across North Yorkshire, at Force Headquarters, Scarborough, Filey, Skipton Police Station, Scalby Mills, Clifton Moor Shopping Centre, Whitby and Fulford Road Police Station.
These Officers include Chief Constable Winward, Deputy Chief Constable Cain, five Inspectors, two Sergeants, three motorcycle Policemen from Cleveland Police, the two Officers (Sleeping Beauties) pictured above and the two Clifton Moor Policemen. The Sleeping Beauties are additionally accused of neglect of duty for being asleep and ignoring calls, when they should have been awake and alert.
I have additionally asked that the Chief Constable, Deputy Chief Constable and the Inspector commanding Scarborough Police Station each receive a £10,000 fine for organising a large gathering inside Scarborough Police Station, namely a presentation to Ms Win Almond for completing fifty years' service.
Police Officers have a duty to challenge and report improper conduct by their colleagues under the College of Policing Code of Ethics requirements for:
Honesty and Integrity generally (1).
Conduct (9).
Challenging and Reporting Improper Conduct (10).
So I have also asked that Superintendent Mike Walker the Gold Commander for NYP's response to the Coronavirus emergency, be investigated for supressing a complaint and failing to confront the misconduct recorded above.
The Chief Constable responds
In my last article I commented:
"I have also asked for a media comment from North Yorkshire Police and the Officers concerned, but none has been forthcoming. Should I receive one, I will of course publish it."
I did not expect that the complaints would be investigated, because the amount of evidence was overwhelming and it would therefore be very difficult not to uphold them. An outcome I believed the Chief Constable would never allow.
I have now had Chief Constable Winward's response to my complaints. As I suspected, she has used a lawyer to identify a procedural rule to justify refusing to investigate them.
The extract below should give our readers the flavour:
"The complaints regime was recently overhauled by the Policing and Crime Act 2017, which introduced substantial changes to what could constitute a complaint and the breadth of issues that an individual could raise through the complaints process.
The complaints system is intended to ensure that those individuals who are eligible complainants can access a system that ensures that matters are dealt with at the most appropriate level and supports the efficiency and fairness of the system generally. This system ensures that matters of the utmost gravity are investigated, independently, but that a wider range of complaints and correspondence is most appropriately dealt with by the Police or complaints teams themselves.
North Yorkshire Police have to ensure that they are fair and that they balance competing needs and make sure that their resources are used proportionally and appropriately. A very small number of people can take up a disproportionate amount of time, public money and resources. North Yorkshire Police want to make sure that they are aware of all legitimate complaints or correspondence and that they have the right information to respond promptly, effectively and efficiently. North Yorkshire Police will always aim to work to put things right for those people who correspond with them or make a genuine complaint.
Dealing with most complainants and correspondents is usually straightforward. In a minority of cases, however, some people choose to pursue their complaints or correspondence in ways that can impede the progress of investigation of their complaint or correspondence, or can otherwise cause significant resource implications for the Police.  
In accordance with the IOPC's policy on unreasonable and unacceptable complainants and the IOPC statutory guidance on handling complaints, we are writing to advise you that the volume of your correspondence is excessive, unreasonably persistent and that (whilst some correspondence is appropriately raised with the Force or the complaints team) the nature of your correspondence is often unreasonable, derogatory containing unsubstantiated allegations/assertions, or constitutes ineligible, purported complaints. Your behaviour in corresponding in this manner is unacceptable due to the substantial impact that responding to you alone has on public resources.
We are therefore putting you on notice that North Yorkshire Police is putting in place a customer contact arrangement with you. The contact arrangements will not prevent you from accessing the complaints system or seeking information by other lawful means, such as FOI requests, but it sets out the basis on which the Force will, or will not, respond to your correspondence or requests.  
Your correspondence will not be acknowledged as a matter of routine but will be logged and retained.
Your correspondence will be reviewed and will only be dealt with where it is:- a. an eligible complaint under the complaints system or PRA 2002 and where it is raised by you specifically, on your own behalf, in respect of matters directly affecting you; or b. makes a lawful request under a statutory transparency or disclosure regime. The Force will abide by the relevant legal regime and practitioner guidance issued to public bodies by the Information Commissioner, in determining if, and how, to respond to such requests by you.
In respect of matters garnered via your online presence, the Force will not deal with these as complaints unless they comply with the complaints criteria for those acting on behalf of others.
We would ask that those wishing to complain on matters that have directly affected them do so directly and personally, using the appropriate complaints policy unless the complaints criteria are met (for others to act on their behalf) including the requirements for express written consent. Otherwise, such correspondence will be treated as feedback and whilst it will be progressed internally, it will not be responded to."

So in other words, the Chief Constable has prohibited investigation of any of the above matters, thereby exonerating herself and all the other Officers.
As usual, I received a similar letter written by the same lawyer on behalf of Mrs Julia Mulligan the Police, Fire & Crime Commissioner for North Yorkshire, which showed she is perfectly aligned with Chief Constable Winward in preventing the investigation of these matters and thereby demonstrating that she has failed in her duty to hold North Yorkshire Police to account.
This is unfortunate because it should be said that there could be an innocent explanation for the matters complained of and if there is, it will never be aired. The NYE has offered the Officers concerned the opportunity of issuing a statement, but to date – in accordance with the Chief Constable's policy – none of them have.
Some blatant examples of double standards and hypocrisy by NYP
Contrast the way that North Yorkshire Police treat the public compared to how they treat their own Officers:
After the picture of the Filey Police Fish and Chip Patrol surfaced, one of our readers posted on social media: "I went to supermarket & butchers in Filey other month we then picked some chips up to share in car & Police pulled up said it wasn't allowed & sent us home."
North Yorkshire Police fined three nurses that had travelled to Scarborough to have fish and chips. Yorkshire Post report here. But will not take action against the Deputy Chief Constable for travelling to Scarborough to attend a Police long service ceremony.
NYP fined two motor bikers for travelling to Whitby to have fish and chips BBC report here. But will not take any action against the three motorbike Policemen from Cleveland Police that travelled to Whitby and had fish and chips together on a bench, then viewed a holiday cottage, all the time ignoring social distancing.
Whenever any occasion has occurred where Police Officers have been alleged to have breached the lockdown regulations, every other Force I am aware of has taken disciplinary action of one sort or another against the Officers concerned.
As an example, nineteen Metropolitan Police Constables were fined for breaching the Lockdown Regulations by having breakfast together. They were all fined £200.00.
So far as I can tell, only in North Yorkshire does the Chief Constable refuse to take any action at all.
In my view the Chief Constable should not use the Policing and Crime Act 2017 to supress complaints about breaches of the coronavirus regulations, which are supported by evidence in the form of photographs, video evidence and witness accounts. Particularly when some complaints concern her own personal conduct, demonstrating that she has a conflict of interest.
This only serves to maintain one law for the public and another for herself and her Officers, which undermines public confidence in the Police service as a whole.
Or put another way (satirically):
CHIEF CONSTABLE'S FORCE WIDE MESSAGE TO NORTH YORKSHIRE POLICE
Chief Constable Winward, Superintendent Mike Walker, Gold Commander for the NYP response to the coronavirus pandemic and Deputy Chief Constable Phil Cain. All are the subject of complaints for breaching the coronavirus regulations that have been supressed by Chief Constable Winward.
SUBJECT: NYE INVESTIGATIONS; PANIC OVER
MANY OF YOU WILL BE AWARE THAT NORTH YORKS ENQUIRER (NYE) JOURNALISTS AND THEIR READERS HAVE BEEN EXPOSING BREACHES OF THE CORONAVIRUS LOCKDOWN REGULATIONS AND OTHER EXAMPLES OF LOW PROFESSIONAL STANDARDS BY OFFICERS OF NORTH YORKSHIRE POLICE.
I TAKE THESE ALLEGATIONS VERY SERIOUSLY.
I AM THEREFORE ISSUNG A FORCE WIDE COMMUNICATION TO EVERYONE IN NORTH YORKSHIRE POLICE TO SET OUT THE POSITION OF THE SENIOR COMMAND TEAM ON BREACHES OF THE CORONAVIRUS LOCKDOWN REGULATIONS BY OFFICERS OF NORTH YORKSHIRE POLICE.
WE CANNOT HAVE A SITUATION WHERE THE EXISTENCE OF FREE SPEECH AND A FREE PRESS RESULTS IN POLICE MISCONDUCT BEING EXPOSED TO THE PUBLIC BY THE NYE. THIS WILL RESULT IN ALL OF US BEING HELD TO ACCOUNT, LEADING TO MORE OPEN POLICING IN NORTH YORKSHIRE AND AN IMPROVEMENT IN PROFESSIONAL STANDARDS OF POLICING.
CLEARLY THIS IS AN OUTCOME WE MUST ALL STRIVE TO AVOID AT ALL COSTS.
FORTUNATELY THE POLICE COMPLAINTS SYSTEM IS A JOKE AND OPEN TO ABUSE BY THE POLICE. SO I HAVE USED A SMART LAWYER AND A PROCEDURAL PRETEXT TO SUPRESS EVERY COMPLAINT MADE ABOUT US BREACHING THE LOCKDOWN REGULATIONS. CONSEQUENTLY NONE OF US WILL BE HELD TO ACCOUNT AND NO ONE WILL BE FINED £10,000 FOR ORGANISING WIN ALMOND'S LONG SERVICE CEREMONY IN SCARBOROUGH NICK.
IT DOES NOT MATTER HOW IRRESPONSIBLE OR UNACCEPTABLE THE BEHAVIOUR OR HOW STRONG THE EVIDENCE OF MISCONDUCT, I HAVE ENSURED THAT NO ACTION WILL BE TAKEN AGAINST ANY OF US.
THIS IS CONTRARY TO THE COLLEGE OF POLICING REQUIREMENTS FOR HONESTY AND INTEGRITY, CHALLENGING AND REPORTING IMPROPER CONDUCT, AND CONDUCT GENERALLY. BUT WE ALL KNOW THAT IS ONLY CORPORATE POLICE PR WHICH I CAN IGNORE WHEN I CHOOSE. LIKE MY PREDECESSOR CHIEF CONSTABLE MAXWELL, I AM CHIEF CONSTABLE AND CAN DO WHATEVER I LIKE.
I WANT TO TAKE THIS OPPORTUNITY OF THANKING POLICE FIRE AND CRIME COMMISIONER FOR NORTH YORKSHIRE JULIA MULLIGAN FOR HER SUPPORT IN MY DECISION, AT A DIFFICULT TIME FOR THE FORCE.
GOING FORWARD I WANT YOU ALL TO KNOW HOW PROUD I AM OF YOU. THE SENIOR COMMAND TEAM AND I (PICTURED ABOVE) ARE RIGHT BEHIND YOU. WE ARE ALL COMMITTED TO LEADERSHIP BY EXAMPLE. THAT IS WHY WE ARE ALL ALSO ALLEGED TO HAVE BREACHED THE CORONAVIRUS LOCKDOWN REGULATIONS.
PLEASE CARRY ON PULLING OVER INTO A LAYBYE FOR A KIP WHENEVER YOU WANT, ENDANGERING THE LIVES OF YOUR COLLEAGUES, FAMILIES AND THE PUBLIC BY IGNORING THE LOCKDOWN REGULATIONS, NOT WEARING MASKS AND NOT SOCIAL DISTANCING. THIS IS ALL FINE, PROVIDED YOU CARRY ON ENFORCING THE LOCKDOWN REGULATIONS ON THE PUBLIC. ESPECIALLY IF THEY ARE EATING FISH AND CHIPS.
IF SOMEONE CONTRACTS CORONAVIRUS FROM A POLICE OFFICER AND DIES, DON'T WORRY, THEY'LL NEVER PROVE IT.
TO THE VAST MAJORITY OF YOU THAT MAINTAIN THE HIGHEST STANDARDS OF CONDUCT AND TURNOUT, ARE COMMITTED TO THE COLLEGE OF POLICING CODE OF ETHICS AND DO NOT BREACH THE CORONAVIRUS REGULATIONS, I WOULD SAY THIS. YOU WILL NEVER BE PROMOTED TO CHIEF OFFICER RANK IN NORTH YORKSHIRE POLICE WHILE YOU INDULGE IN THIS CONDUCT. TRANSFER TO THE MET.
LISA WINWARD
CHIEF CONSTABLE
"COMMITTED TO THE CODE OF ETHICS" (UNLESS IT IS INCONVENIENT, OR RESULTS IN POLICE OFFICERS BEING CHARGED WITH MISCONDUCT)
Why is the NYE taking this strong line on this subject?
Some of the postings on social media about the NYE's policy of photographing Police Officers breaching the Coronavirus Lockdown Regulations have attracted abusive responses asking if we do not have anything better to do with our lives etc.
The NYE is continuing to raise this issue forthrightly because:
Hypocrisy and abuse of Police powers is unacceptable in a democratic society, or in a disciplined and properly led Police service.
This type of conduct risks lives. It only takes one officer to infect an entire station Police station, their families and multiple members of the public.
The Police must be subordinate to the law the same as everyone else and accountable for misconduct. As soon as they are not, -which is the situation in North Yorkshire- public confidence in the Police is damaged and it will lead to further examples of ore serious misconduct.
These incidents have occurred openly and continue to occur. No other Force that I am aware of has had so many incidents. No action has been taken to deter further breaches by censuring the Officers that indulge in this conduct and the Force has made no public comment. The concern must be that North Yorkshire Police as a Force is routinely ignoring the coronavirus lockdown regulations and this conduct is tacitly supported by senior Police Officers.
The inevitable consequence of the Chief Constable's decision to reject all complaints about Police Officers breaching the Coronavirus Lockdown Regulations has been that some Police Officers have become confident they will be protected from any consequences for breaching the regulations. These breaches which are effectively prohibited and punished in every other Force in the country may have become normal practice in North Yorkshire Police, thereby endangering lives.
The NYE's readers have a right to have access to Police media comment. The Chief Constable's policy of disengagement from the NYE is an attack on freedom of the press and the public's right to know. Here I can do no better than quote from Deputy Chief Constable Gareth Morgan, the National Police Chiefs Council, Lead for Media Relations: "The media also play a vital role in holding the Police service to account and in connecting us with the public – this includes highlighting when things may have gone wrong or where policing is under legitimate scrutiny. The relationship should also therefore be challenging and we need to recognise the role the media discharge on behalf of the public in ensuring that we are accountable. The responsibility to be open, transparent and accountable is part of the Code of Ethics and sits with everybody in policing. In recent years there has been a perception, rightly or wrongly, that the Police have withdrawn and communicate less openly with the media. This does policing a disservice and I am determined that we need to reset the relationship with the media – an appropriate and professional relationship between the Police and the media is in the public interest." The Chief Constable's policy isn't.
I hope that those of our readers that do not agree with our policy will consider the above arguments carefully. If they still do not agree they will at least understand the reason why the NYE considers it is essential that this issue is raised in the public interest.
NYE Appeal for Information
If you become aware of a public figure or Police officer breaching the lockdown regulations, please photograph or video him/her and make a note of the:
 Date.
 Time.
 Location.
Registration number of their vehicle.
If possible, their rank and Police collar numbers.
Other circumstances.
Then inform the NYE using the news@nyenquirer.uk e mail. The NYE will pay a reward for these photographs in accordance with standard journalistic practice.*
Constables and Sergeants: £25.00
Inspectors and above: £50.00
Deputy Chief Constable Cain and Superintendent Walker: £75.00
Chief Constable Winward: £100.00
Right of Reply
If you are mentioned in this article and do not agree with the views expressed in it, or if you wish to correct any factual inaccuracy, please let me know using the letters@nyenquirer.uk e mail address and your views and a correction will be published if appropriate.