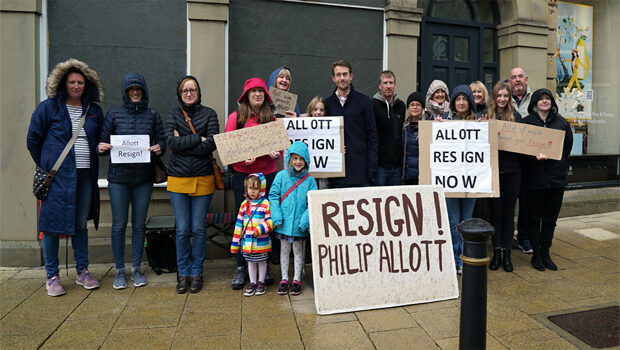 Should Commissioner Allott be Sacked?
by TIM HICKS
~~~~~ 
Introduction 
The Police, Fire & Crime Commissioner (PFCC) for North Yorkshire, Philip Allott, is now the subject of a storm of controversy because the day after former Police Constable Wayne Couzens was convicted of the murder of Sarah Everard he stated in an interview:
"So women, first of all, need to be streetwise about when they can be arrested and when they can't be arrested. She should never have been arrested and submitted to that. Perhaps women need to consider in terms of the legal process, to just learn a bit about that legal process".
PFCC Allott has subsequently retracted his remarks and apologised unreservedly for them. I asked PFCC Allott for a comment on this controversy and it is reproduced below – from his Press Officer: 
"Thank you for your email of 2 October 2021. 
As you are aware, you remain subject to a Customer Contact strategy and in line with that arrangement, ordinarily your correspondence would be the subject of an individual response.
You will also be aware that it is our consistent position that the NY Enquirer is not treated as a recognised media outlet and therefore, we would not ordinarily respond to a request for a 'media comment' from you either. 
However, Commissioner Allott recognises the current level of public interest and concern in the topic you raise in your email. 
By way of response, he has asked me to draw your attention to his public statement at https://www.northyorkshire-pfcc.gov.uk/news/statement-from-philip-allott/ and to his open letter published with the agenda papers for the Police, Fire and Crime Panel meeting on 14 October 2021 at https://edemocracy.northyorks.gov.uk/ieListDocuments.aspx?CId=1159&MId=4727&Ver=4" 
Leaving aside PFCC Allott's contradictory and hypocritical policy of ignoring media enquiries from the NYE because he does not recognise it as a media outlet unless it is covering an issue of "public interest and concern" (Allott speak for "I need to get my defence out, because I am in big trouble. So I will temporarily suspend my policy of supressing any journalist that criticises me or the police, to save my own skin". Editor)
Should Philip Allott have Resigned?
I can remember no act by any Police, Fire & Crime Commissioner that has raised such enormous public revulsion as Commissioner Allott's bizarre comments on the murder of Sarah Everard. Commissioner Allott must now be the most well-known Conservative politician in the UK, after Boris Johnson and Priti Patel.
Boris Johnson, who said his remarks were "completely wrong, and wrong-headed".
Conservative Party Chair Oliver Dowden who said he profoundly disagreed with PFCC Allott's remarks and that it was a stupid thing to say.
Leader of the opposition Sir Kier Starmerwho said "I can't think of a more inappropriate thing for a police and crime commissioner to say".
Leader of the Scottish Nationalists Nicola Sturgeon who said his remarks were "appalling".
Since he has been appointed as PFCC in May, I have been impressed with PFCC Allott's commitment to the role and more inclusive approach. He is light-years ahead of his predecessor Mrs Julia Mulligan, who had an unsavoury reputation for bullying. However, in my view he should have resigned. My reasoning is as follows:
His comments are victim blaming. It is not down to women to know the law. It is down to the police service to ensure that the vetting prevents it from recruiting and retaining rapists as policemen and that when there are concerns about an officer, other officers report them.
His opinion that women need to be streetwise and should not submit to arrest is ridiculous. No matter how streetwise she was, Sarah Everard could not have known that Couzens was deceiving her. There was no possibility of her refusing to submit to arrest. If she had tried to resist Couzens, he would simply have overpowered her. Even if members of the public had tried to intervene, Couzens would have arrested them for obstructing a police officer in the execution of his duty. Any officers in a passing patrol car would have instantly backed him up.
The role of the PFCC is to hold the police to account, but as shown above, he has not done this. He has issued not one word of criticism of the police. Nor has he faced up to any of the institutional failings present in the British Police Service, which probably exist in North Yorkshire Police (NYP) with constructive comments on how to resolve them. This is a major failure that makes him unsuitable for the role.
The Fire Service Union has expressed lack of confidence in PFCC Allott over his remarks. NYP and the Police Federation have remained silent and offered no support to him. Indicating he has lost the support of both groups of workers. This makes it impossible for him to carry on.
Most of all, his comments reveal his true underlying attitude towards male violence against women, the need to combat police corruption and to implement change.
To quote former Police Officer and Independent candidate at the PFCC election in May, Mr Keith Tordoff MBE:
"His position is untenable for working with victims, their loved ones, organisations, the Police, emergency services and people of North Yorkshire. He is now a liability to the office of the Police, Fire and Crime Commissioner of North Yorkshire. Time to do the right thing."
The Labour Party candidate at the May PFCC election, Mrs Alison Hume, said:
"Women have lost faith in the police. The vast majority of survivors of sexual violence and assault never report to police, and it's not hard to understand why. The charge rate for domestic abuse related crime in North Yorkshire in 2019-20 was just 4%, compared to 9% in England and Wales as a whole.  
Mr Allott already had a huge job on his hands when he was elected, and it is clear from today that he simply isn't up to it. Violence against women and girls is at epidemic proportions in York and North Yorkshire.  
How can Mr Allott hold the police force to account on our behalf with views which suggest women are somehow responsible for what happens to us at the hands of violent men? His hurried apology is simply not enough. I call on Philip Allott to resign with immediate effect." 
A petition calling for PFCC Allott's resignation can be accessed here.
Commissioner Allott's justification for not resigning
Commissioner Allott has stated forthrightly that he will not resign. Quoted by the BBC he said: 
"No I will not [resign], because it's more important that I carry through the mandate I was elected to do and I have to say I have thought about it, I've gone back and I've reflected on my position.
About 10,000 people have signed a petition calling on him to do resign. Commenting on this, Commissioner Allott said: 
We have to see it in context, 83,000 people voted for me in North Yorkshire and York – that's more than any Member of Parliament."
Whilst 83,000 people did vote for Commissioner Allott in the May 2021 election, that was on the second preference vote. We should not forget that in the first preference vote he got 73,657 votes with 82,914 voting against him for the other candidates.
His predecessor as Police, Fire & Crime Commissioner for North Yorkshire, Mrs Julia Mulliga,n has – unusually for a senior Conservative politician – broken ranks and severely criticised Commissioner Allott. She is quoted in the Yorkshire Post as saying that women will never believe Philip Allott again:
"Philip Allott's words reveal a total absence of understanding of male violence against women and girls. 
That is bad enough. But let us also not forget that York was Sarah's hometown. Her family were mourning her with some of the most compelling victim statements I have ever read. They may have been listening to that interview, they may have heard what he said. 
How dare someone in that position, a position of power, a position of trust, suggest that Sarah was in any way to blame." 

I suspect that most women in North Yorkshire are sickened by his comments and would not now vote for him. Further, the degree of criticism he has had from across the political spectrum by the elected politicians quoted above reflects public opinion nationally that he should go.
Put simply he has lost his mandate. I have no doubt that if the election was run again, he would be defeated.
Should Commissioner Allott be sacked?
The situation with Commissioner Allott will be discussed at a meeting of the North Yorkshire Police, Fire & Crime Panel on the 14th of October. The panel has the power to dismiss Commissioner Allott.
In my view, it should do so.
However, the largest single group on the panel is the Conservatives. In the past when faced with very serious misconduct by a Commissioner, (the bullying allegations against Conservative PFCC Julia Mulligan), the panel failed to remove the Commissioner.
I could be wrong, but I suspect it will take the same line with Commissioner Allott.
If that is so, then North Yorkshire will be saddled with a deeply unpopular lame duck commissioner that has lost the support and confidence of the electorate and the police and fire officers he is supposed to lead.
Coming Next
"Couzens: What went wrong?"