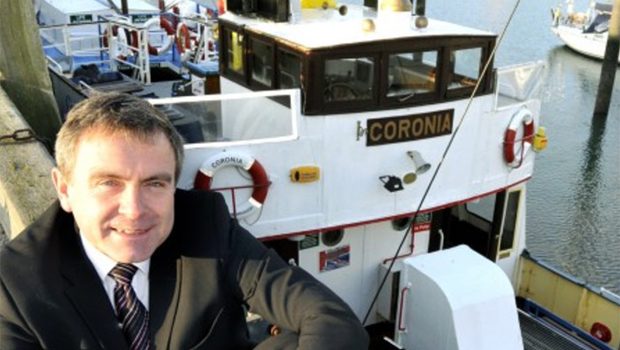 No GOODWILL For Fire Risk tenants

an "In My View" article by NIGEL WARD, reporting on Scarborough & Whitby's MP Robert GOODWILL, caring Conservative landlord. [UPDATED at 15:13 on Friday 16th June 2016]
~~~~~
Following the fire at 27-storey residential block Grenfell Tower this week – described by Labour MP David LAMMY as "corporate manslaughter" –  an amendment has been proposed to the government's Housing and Planning Bill which suggests that landlords should be required to make homes "fit for human habitation".
A similar amendment was tabled by Labour last year, but was defeated by Tory MPs following a vote of 312 to 219.
The IBT website has reported that Parliament's Register of Interests shows that 71 of the Tory MPs who voted against the amendment were themselves private landlords.
Nigel Adams
Stuart Andrew
Victoria Atkins
Jake Berry
James Berry
Bob Blackman
Robert Buckland
Alun Cairns
David Cameron
Alex Chalk
James Cleverley
Geoffrey Clifton-Brown
Geoffrey Cox
Mims Davies
Philip Davies
Richard Drax
James Duddridge
Alan Duncan
Philip Dunne
Jane Ellison
George Eustice
Mike Freer
Richard Fuller
John Glen
ROBERT GOODWILL
Chris Grayling
Dominic Grieve
Chris Heaton-Harris
Peter Heaton-Jones
George Hollingberry
Kevin Hollinrake
Philip Hollobone
Nick Hurd
Stewart Jackson
Margot James
Sajid Javid
Joseph Johnson
Simon Kirby (teller)
Greg Knight
Brandon Lewis
Julian Lewis
Craig Mackinlay
Tania Mathias
Karl McCartney
Anne Marie Morris
Sheryll Murray
Robert Neill
Sarah Newton (teller)
Jesse Norman
David Nuttall
Neil Parish
Owen Paterson
Rebecca Pow
Jeremy Quin
Jacob Rees-Mogg
Laurence Robertson
Julian Smith
Royston Smith
Mark Spencer
John Stevenson
Desmond Swayne
Derek Thomas
Anne-Marie Trevelyan
Andrew Turner
Shailesh Vara
Theresa Villiers
Ben Wallace
David Warburton
Craig Whittaker
John Whittingdale
Nadhim Zahawi
With the help of my highlighting (in BOLD), readers will have been swift to spot Scarborough & Whitby Conservative MP Robert GOODWILL in the middle of the list.
Robert GOODWILL MP's Register of Interest is published on the TheyWorkForUs.com website.
In addition to the family farm and woodland burial site at Terrington near York, Mr GOODWILL owns three industrial units (also at Terrington) and four properties in Middlesbrough. He also owns an immaculately maintained old steam engine (pictured below) and a more or less derelict passenger cruiser, the Dunkirk veteran 'Coronia' (pictured above), which has propped up the wall of Scarborough Harbour since around 2011. Thus, he is well placed to empathise with low income residents in sorely neglected rented accommodation.
Still, one wonders whether or not plutocrat GOODWILL is aware that, within his own constituency, there are fire hazards every bit as dangerous to life as the horror story unfolding in the Royal Borough of Kensington & Chelsea, about which some commentators have made so bold as to suggest that residents have lost their lives because they are poor.
Here in Whitby, not half a kilometer from my own home, Councillor Rob BARNETT [Lab.] has taken photographs (see below) of a massive fire hazard in a Yorkshire Coast Homes block of flats, where tenants' concerns have been ignored for months, even years? Councillor BARNETT tells me that he could not locate any advisory signs indicating best routes of escape. The intercom systems are non-operational and, in fact, taped over. There are no smoke detectors in the stair-wells.
One resident told me that cupboards containing fire-fighting equipment have been painted over so many times that they no longer even open.
Councillor BARNETT has raised these issues in the past but the problems persist. Another resident told me that the long-standing accumulation of rubbish has made it a prime target for fly-tippers.
To make matters worse, the properties are accessible only by footpath – far from ideal access for fire appliances. Let us not pause to dwell on the Tory cuts to our Fire & Rescue Services.
I have written to Yorkshire Coast Homes requesting comment from Director of Operations Mr Bill MILLER (not that Bill MILLER) and Chair Roz FOX (a former Scarborough Borough Councillor and the wife of former SBC Leader and Mayor Councillor Tom FOX [Con.]). Nothing back yet.
Readers may wish to ask Robert GOODWILL MP whether or not he intends to dust off his conscience and bring his Ministerial 'clout' to bear on this situation.
Another possible avenue of progress may be through SBC Councillor Bill CHATT, who is Cabinet Porfolio Holder for Public Health & Housing.
Hopefully somebody will address this 'disaster waiting to happen'.
---
UPDATE
Mr MILLER has now responded to my email:
~~~
From: Bill Miller
Sent: 16 June 2017 14:05
To: Nigel
Subject: FW: URGENT: For the attention of Bill MILLER – YCH Church Street Whitby
Good Afternoon Mr. Ward,
Many thanks for your e-mail and for raising this matter with me.
Following your e-mail below received by me earlier today I can confirm Yorkshire Coast Homes (YCH) are continuing with our pro-active approach to Fire Safety and your recent notification will assist us in this matter.
Prior to your e-mail this morning I can confirm that YCH was aware of the fly tipping issue adjacent to the flats and have put remedial works in place to remove these items.
With regard to the material deposited on the flat balcony depicted in your photograph, YCH have informed the Housing Association responsible for the flat and they are dealing with this matter.
As YCH are responsible for just over 50% of the flats across each of the blocks  we endeavour to remind our tenants, private leaseholders and other housing association tenants of the need to notify us of any issues of fly tipping.
Whilst various clearances has been carried out by both YCH and Scarborough Borough Council you can appreciate the need for the tenants and residents to challenge and make YCH aware of the known offenders so this illegal action can be brought to a halt.
Given the recent disaster at Grenfell Towers, YCH is aware of the need to ensure fly tipping of any potential hazardous material does not re-occur and we will combine regular site inspections with a reminder to all tenants, leaseholders and stakeholders of their responsibility in this matter.
In order to assist YCH and other stakeholders in the properties to combat this problem, I would encourage  all tenants and residents to call YCH Contact Team  on  03450 655656 or call into YCH Whitby Housing Office, The Coliseum,Whitby.YO21 1 EZ should this illegal action re-occur.
I hope the above is of assistance to you.
Kind regards.
Bill Miller
Director of Operations
Yorkshire Coast Homes
Brook House
4 Gladstone Road
Scarborough
YO12 7BH