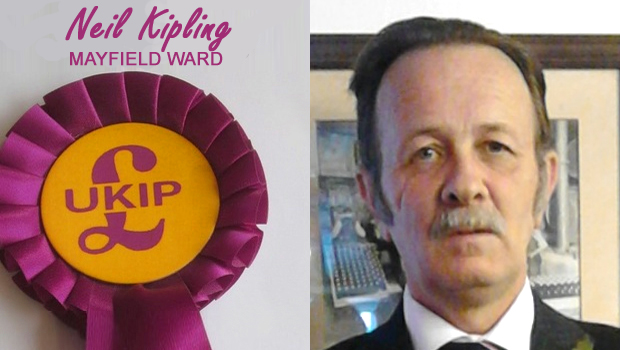 A Letter to the Editor from Neil KIPLING, of Scarborough (who is contesting the Mayfield ward of the Scarborough Borough Council local elections for the United Kingdom Independence Party), introducing himself to the Borough electorate.
~~~~~
Dear Mr Editor,

May I, through your column, express my reasons for standing for Mayfield Ward in Whitby for UKip.

I am a 6th-generation Whitby man who will truly put Whitby people First! I founded a group, "Whitby First!", 21 years ago and stood in the 1995 NYCC elections, pushing Dorothy Clegg into 4th place.

My greatest success was a 10,000+ signature petition calling for improved leisure services in OUR beautiful Town. It forced the Borough's hand.

We are all, at some point in our lives, guilty of – and victims of – others' indiscretions. My passion is my birthplace and that is not questionable.

We have been subjected to seriously flawed schemes which have been extremely detrimental to the prosperity of Whitby businesses and tourists alike.

Voting UKip isn't about racism but Patriotism! I am proud to be British.

I am a member of several tenants groups at Yorkshire Coast Homes and sit on the budgeting panel which gives £10,000 per year to community initiatives.

As a Borough Councillor, I promise you this:

I WILL ALWAYS;

FIGHT for all things Whitby
INSIST on local referenda on sensitive issues.
RESIST party political suppression of independent views.
STAND opposed to, and Expose corruption.
TAKE the fight to save Whitby piers to the forefront of the agenda.

It's always been my desire to serve the people of Whitby. I sincerely hope you will place your trust in me and vote UKip, vote NEIL KIPLING, putting Whitby people First!

Yours, etc,

Neil Kipling
Neil KIPLING. 4th May. 2015.