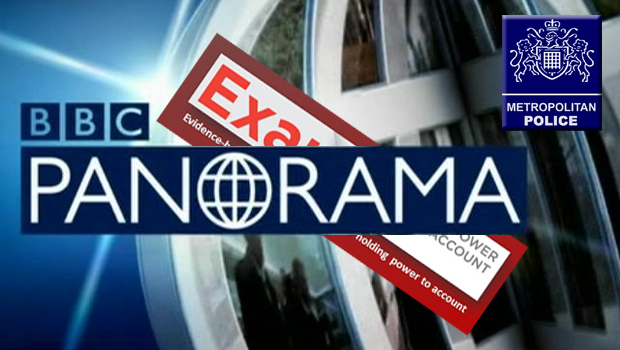 Media Intrusion Into Criminal Investigations
Following the broadcast of the BBC

Panorama

documentary "The VIP Paedophile Ring: What's The Truth" (6th October 2015), Crime & Parliamentary Affairs correspondent

T

IM

HICKS

comments on the response of the Metropolitan Police to the documentary and its negative references to the Exaro News coverage of

Operation Midland

and the Westminster paedophile allegations.

~~~~~
The North Yorks Enquirer citizen-journalists have read, with great sadness, the statement by the Metropolitan Police complaining of media intrusion into a criminal investigation into the abuse of children.

http://nyenquirer.uk/metropolitan-police-statement-re-csa/

In connection with our investigation into the Peter Jaconelli/Jimmy Savile paedophile-ring, the North Yorks Enquirer has co-operated with North Yorkshire Police, the Metropolitan Police, Wiltshire Constabulary, Greater Manchester Police and the Lancashire Constabulary by forwarding information to them.
We have also met with detectives from the Metropolitan Police and North Yorkshire Police to assist with Operation Yewtree and Operation Hibiscus respectively. 
We are currently pursuing the following investigations:
Following Nigel Ward's disclosure (as a result of the response to his Freedom of Information request to the Crown Prosecution Service) that Peter Jaconelli had been charged with indecent assault in 1972 (as well as other matters which are not yet in the public domain), we have recently received a request for our assistance from North Yorkshire Police CID, in connection with Operation Hibiscus.
As a result of our investigation into the Jimmy Savile/Peter Jaconelli paedophile-ring, we have recently uncovered other information which we believe will be of assistance to Operation Essence, (the murder of Miss Claudia Lawrence), which we are in the process of passing on. Although we are aware of some of the names of those arrested in connection with Miss Lawrence's murder, we have never released them – in accordance with Police requests.
We have forwarded information to Devon & Cornwall Police, Sussex Police and the Office of the Director of Public Prosecutions concerning a suspicious disappearance, which is unrelated to North Yorkshire.
In all of our investigations, we have been at great pains to work with the Police and to assist them. However, this has not stopped us from criticising errors made during Police investigations, or uncovering misconduct by Police Officers.

In this context, please see below the BBC Look North interview with Assistant Chief Constable Paul Kennedy of North Yorkshire Police, in which he ackowledges the assistance he has received from the media for publicising the case of Peter Jaconelli, which led to witnesses coming forward to the Police.

http://www.itv.com/news/calendar/update/2014-12-18/police-apologise-to-alleged-victims-of-jimmy-savile-and-former-mayor-of-scarborough-peter-jaconelli/
The North Yorks Enquirer supports the action of the Metropolitan Police in warning of the dangers of press intrusion into criminal investigations.
The Enquirer team will continue to conduct high quality investigative-journalism in the public interest, whilst acting within the law at all times.