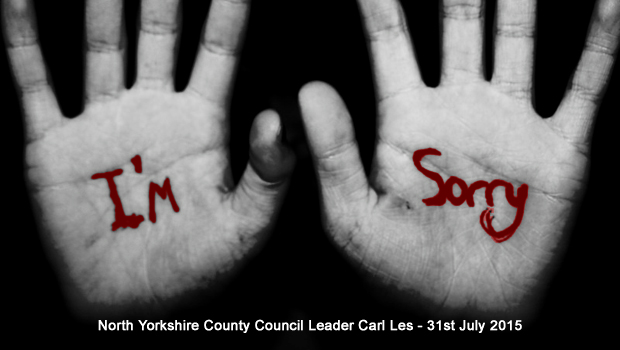 JACONELLI: NYCC Leader Cllr. Carl Les Says "Sorry"
an "In My View" article by NIGEL WARD, reporting on NYCC Leader's response to Nigel's Open Letter to him regarding JIMMY SAVILE's fellow pervert and rapist of children, PETER JACONELLI.
~~~~~
Background
On 30th June 2015, I published, as an Open Letter, my emailed request to North Yorkshire County Council Leader County Councillor Carl LES to consider the merits of offering a personal apology to the innumerable victims of former County Councillor Peter JACONELLI, the former Scarborough Mayor, Councillor and Alderman who, alone and with others – including Jimmy SAVILE – sexually abused youngsters in and around Scarborough, and beyond, for five decades:
On 4th July 2015, Councillor LES acknowledged my request, stating that he would seek advice and respond as soon as possible. I thanked him, suggesting a face-to-face meeting.
On 9th July 2015, Councillor LES offered to visit me in Whitby. Anticipating a short meeting, I suggested that his travelling time might be better spent and offering to visit him at County Hall in Northallerton, the seat of local government for North Yorkshire. I also suggested that it might be helpful if I were to be accompanied by Liberal Democrat PPC Michael BECKETT, who has acknowledged that he himself is a survivor of child sexual abuse (CSA), and that I would welcome the presence of NYCC Deputy Chief Executive, Head of Legal & Democratic Services and Monitoring Officer Barry KHAN, with whom I feel I enjoy a mutually respectful relationship.
The first available date for we four to meet was Friday 31st July, 2015.
The Meeting
Mike BECKETT and I arrived at County Hall just a couple of minutes late – not by design but in consequence of heavy traffic coming out of Whitby. We were directed to a small conference room where we were met by Councillor LES and Barry KHAN.
Having dispensed with the pleasantries, Councillor LES asked me how I wished to proceed. I told him that I had set out my request in my Open Letter; it would only be necessary for me to present a detailed rationale if he was resistant to my request. On the other hand, if we were in broad agreement, it remained only to agree a form of words that would convey a sincere expression of sorrow for the effects that Peter JACONELLI's crimes had visited on his hundreds of victims.
Barry KHAN handed me a draft document upon which I passed some comments and Mike BECKETT contributed some sensitive observations. Both Carl and Barry immediately accepted the validity of our suggestions.
That was it. Twenty minutes, all in. Complete accord. Mission accomplished.
The Response
Returning to my desk in the late afternoon, I was very gratified to see that Barry KHAN had emailed me, enclosing a letter from Councillor LES, which I reproduce below in its entirety.
But first, let me present the very personal comments that Councillor LES has included in his statement, in cursive script:
"I have every sympathy with all those affected by abuse. I extend my deepest sympathies to adults who were the victims of abuse in their childhood and I admire their courage and determination in ensuring that historic allegations are not simply swept under the carpet but are highlighted and investigated. I am sorry for the hurt that has been caused to the victims, survivors and their families.


I am aware of the statements made by the police concerning Peter Jaconelli and that they have received details of a number of alleged offences over a period of years. Whilst he is not alive today to face the full force of the legal process, I regret if there is evidence to show that he was not a fit and proper person to be a County Councillor.


We regret the impact on all those affected and can assure them that should they still want to make any disclosures, support will be provided to them and they will be listened to seriously and with sympathy".
It is all too easy to read a form of words carefully weighed by the best legal brain in NYCC and dismiss them as mere corporate gate-keeping or glib PR. Having observed Councillor LES and Barry KHAN closely throughout our very amicable meeting, I would like to comment on these words at the heart of Councillor LES's letter.
I have no doubt of his sincerity when he wrote:
"I am sorry for the hurt that has been caused to the victims, survivors and their families."

It was clear to me that, wherever Carl LES may stand on other issues, he was genuine in his regret and I salute him for that.
It was also clear that he is deeply and personally determined to ensure that no complaint of child abuse will ever again be stiff-armed, at least during his tenure as Leader, which (he tells me) he hopes to hold at least until 2021 – given the continued support of his electorate and the North Yorkshire Conservative Group.
I close with my personal thanks to Carl LES – and with my thanks to the hundreds of people who have sent messages of support for my initiative.
In one sense, it changes nothing – for history cannot be changed.
But in a far more important sense, it provides formal acknowledgement to those who, having first been abused by Peter JACONELLI, then found themselves abused again by a system that simply did not want to know. But that system is not a machine, devoid of human control. It is comprised of men and women who, like their counterparts at the BBC, gave their misplaced allegiance to the system – to the lasting cost of the children who Peter JACONELLI unforgivably brutalised.
Well, now the system does know – and lives to regret its former failings. That will mean a great deal to many of the people whom I have met and attempted to assist. So I thank Carl LES on their behalf and my own. Thank you, sir.
 Afterword – by Mike BECKETT
The terrible legacy of the damage done to children, their families and the community from child sexual abuse remains.
However, those in 'Authority' acknowledging that wrong was done and saying "sorry" does offer help to people, to move on in their recovery journey from living as victims, to being survivors to hopefully becoming thrivers in life, overcoming the past – we all travel at our own pace.
A big thank you to Nigel Ward and the North Yorkshire Enquirer for your help pursuing this and to Carl Les and NYCC for apologising and joining North Yorkshire Police in saying "sorry".
Hopefully now Scarborough Borough Council will reconsider its position and do likewise!
Liberal Democrat PPC Michael BECKETT, Malton. 1st August 2015.