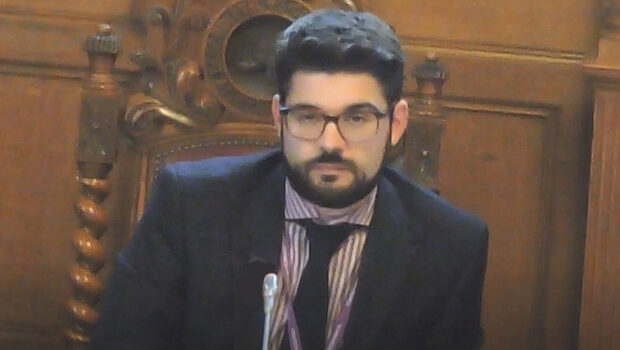 SBC: GREENE Quits as CEO
– an "In My View" article by NIGEL WARD, announcing a far from unexpected turn of events.
~~~~~
In the wake of a number of calamitous outcomes (e.g. the failure of SBC's attempts to divide North Yorkshire into East and West Unitary authorities, the failure of the flagship ARGOS 'regeneration' development, the imminent legal action over the North Bay contract termination, the embarrassment of the YCBID fiasco, and the mounting opposition to the West Pier 'regeneration' scheme, etc), SBC Head of Service and CEO has today announced, in an suitably unctuous email to all Councillors, his forthcoming departure to pastures new.
Dear Councillor
I have some very personal news I wanted to share with you. I have been offered (subject to full council approval) – and I have accepted – a Head of Paid Service role at another authority. I will be moving to take up the role at the unitary authority Stockton on Tees as Managing Director. This appointment is subject to ratification by Stockton's full council but I didn't want you to receive this news via any other channel.
I have enjoyed every minute of my time at the council over the past three years I have been here and I am so proud of everything the
team have achieved.
I will be very sad to leave and would have loved to given longer to the borough but with the changes towards one Chief Executive covering the whole of North Yorkshire and this exciting opportunity which is available I feel it's the right time to move to this new challenge. The borough of Scarborough is a really special place with great people working together for the best of the area.
I have said it before, and I will say it again, that this council has some of the most professional, committed and skilled people I've ever had the privilege to work with. Whether it is providing the day-to-day local services we know our residents appreciate and value, or staging huge occasions like the Armed Forces Day national event, the inspiring regeneration programme you are delivering across the borough, the 'Team Scarborough Borough' commitment to improving our borough is outstanding.
It has been an honour to be your chief executive and I have been taken with the passion and commitment right across the council
chamber and the support you have all given me since I have been here.
I'd also like to use this opportunity to offer some reassurance. I won't be leaving immediately (it will be a number of months) and will be working with Councillors to put in place arrangements to hand over and make sure we continue to deliver our ambitious agenda with the same level of commitment and passion.
That means nothing will change immediately and I can continue to support the great work you do and do what I can to prepare the way for a smooth transition to the new authority
Mike
Mike's alright, Jack.
Readers may recall that when former CEO Jim DILLON stepped down from his role somewhat precipitously in June 2019 (having previously announced his intention to stick around and show his incoming replacement Mr GREENE 'the ropes'), the vacant CEO-spot was the subject of failed job applications from both the s.151 Officer, Mr Nick EDWARDS, (since elevated to Deputy CEO, with concomitant rise and pension enhancements) and Monitoring Officer, Mrs Lisa DIXON.
Which of these (if either) will now be so keen to take on the captain's role as our local ship of state heads for Davy JONES' locker?