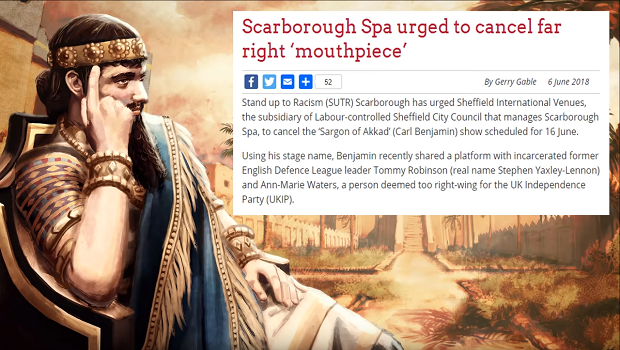 The Scarborough & Whitby Labour Party, through their activists in Scarborough Stand Up To Racism have managed to force Sheffield International Venues (SIV) to cancel an event about British Identity at the Scarborough Spa. SIV, controlled by the Labour Council in Sheffield, runs the Scarborough Spa and Whitby Pavilion.
The cancelled event was Sargon of Akkad's This Week In Stupid. Free speech activist Sargon, aka Carl Benjamin, shot to fame as a YouTuber and was due to speak at the British Identity event on the 16th June.
SIV cancelled the event on June 6th, the same day the Searchlight campaign started stating:
In consultation with relevant agencies in the Borough and after risk assessing the event, we have taken the decision to cancel Sargon of Akkad.
A number of people have complained about the short notice of the cancellation as they'd booked flights to the UK and accommodation in Scarborough for the event. The volume of complaints regarding the short notice cancellation was so large that SIV have since disabled reviews on their Facebook page.
SIV's 10 year contract with Scarborough Borough Council (SBC) to run the Scarborough Spa means that SBC will share any profit made by SIV. It appears that potential profit (there hasn't been one yet!) may be eaten up by paying compensation for the knee-jerk short notice cancellation, legal fees and breach of contract.
The Borough taxpayer may well lose out because of the antics of these hard left Labour activists.
Fronting the Searchlight campaign is Scarborough-based megaphone-wielding hard-left agitator Kim Hunter. Hunter (far right) is a local Labour, Momentum, Socialist Worker's Party, Open Borders, Stand Up To Racism, Frack Free Scarborough, Stand Up To UKIP, Scarborough Against Austerity and anti-Trump busybody activist.
Hunter previously featured on this site after standing shoulder to shoulder with Labour and Green Party Councillors and party activists in Scarborough Town Centre to protest about the election of President Trump.
Hunter has previously accused the West Yorkshire Police of the racist assassination of Yassar Yaqub. The result of the IPCC/IOPC investigation into the death of Yaqub will not be made public until the trials of three men accused of the possession of a firearm have concluded.
Count Dankula, aka Mark Meechan's Twitter feed seems to indicate that Stand Up The Racism and SIV might be involved in some legal action in the near future.
It seems that the only Kim getting a rocket in the near future is the one from Scarborough!