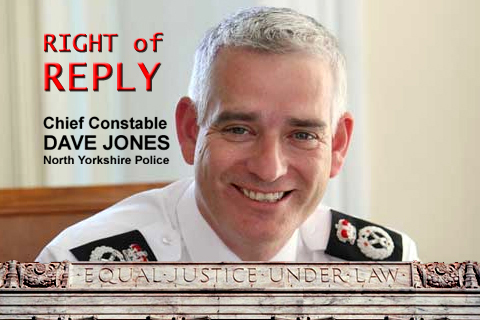 Chief Constable Dave JONES NYP responds
on 18th May 2014, Real Whitby contributor NIGEL WARD published an Open Letter to Chief Constable Dave JONES of the North Yorkshire Police. Chief Constable Dave JONES has this week responded.
~~~~~
Dear Mr. Ward,
Thank you for your open letter dated 18th May, 2014.
I must emphasise from the outset that I am committed to ensuring that North Yorkshire Police continues to retain the confidence of the people who we serve. I do recognise that there are times when such confidence can be tested. The allegations made against Jimmy Savile and Peter Jaconelli of historical child abuse are of particular concern, and I understand the importance of a thorough investigation into those allegations. I also accept that North Yorkshire Police must be held to account in respect of any previous response to reports or allegations made against those people or any related individuals.
For that reason, I established Operation Hibiscus which is led by Detective Superintendent Steve Smith, one of our most experienced senior detectives who I know you have had contact with. The investigation is currently ongoing and I am therefore, not in a position to comment on specific details at this stage. I can confirm that all those people who have made allegations, and are victims of abuse, have been spoken to and provided with appropriate advice and information.
You have made reference to the possibility that complaints of crime made to North Yorkshire Police in the past may have been 'sidelined or subverted'. Additionally, you have referred to the possibility of 'wrong doing' or 'cover up'. Clearly, I consider such allegations to be very serious and again impact on public confidence in the police. I hold the view that only an entirely independent assessment, and objective consideration of the potential for an independent investigation of the actions taken by North Yorkshire Police in the past, will be required to fully understand the truth, and establish if there had been any historical wrong doing or not. On that basis, on 3rd April, 2014 I made the decision to make a voluntary referral to the Independent Police and Complaints Commission( IPCC ), concerning the way in which North Yorkshire Police recorded and responded to complaints of crime made against Jimmy Savile and Peter Jaconelli. The referral also relates to whether any information we held on record about Savile or his known associates, was properly and comprehensively disclosed to Her Majesty's Inspector of Constabulary (HMIC) when we, and other police forces in England and Wales, were asked to do so by HMIC in December 2012 and again by the IPCC in May last year. I hope to be in a position to comment on our next steps once I receive a formal response from the IPCC to my voluntary referral.
I hope that you will see from my actions to date that I am committed to ensuring a robust and thorough investigation of any allegations made against Jimmy Savile, Peter Jaconelli and any other related individual. Additionally, I trust that you will recognise from my referral to the IPCC, my desire for complete transparency and objectivity, in respect of the need to establish the truth regarding of actions taken by North Yorkshire Police in the past, in terms of investigating, recording and reporting allegations or reports of historical child abuse.
If you are in possession of information or evidence, or the personal details of people who you know or believe would be able to provide information of evidence which would or could assist the Operation Hibiscus investigation,  I would respectfully  request, in the interests of the conduct of a robust and thorough search for the truth,  that you provide such information or details to Detective Superintendent Smith and his investigation team at your earliest convenience .
Yours sincerelyDave Jones MA CMgr FCMIChief Constable