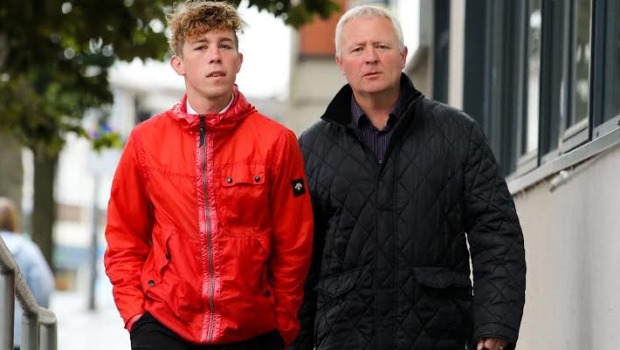 SBC: Son of Ex-Mayor Andy BACKHOUSE Faces Death Charge
an "In My View" article by NIGEL WARD, examining a case that has been kept under wraps for too long.
~~~~~
Readers may recall an article published in the Daily Mail on 2nd September 2015, reporting on the  conviction of Christopher BACKHOUSE, son of former Scarborough Mayor Andy BACKHOUSE for drug offences. The article stated:
"He committed the crimes and 'brought shame' on the family during Tory councillor Andrew Backhouse's civic year in office as Mayor of Scarborough."
This article was of special interest to me because, in August 2014, I had passed information to the North Yorkshire Police concerning a tip-off I had received. My information was that there had been a fatal road accident on the A64 near Tadcaster and that the Renault Clio involved in the crash was allegedly driven by the same Christopher BACKHOUSE, and,  allegedly, that the vehicle may have been used for the transportation of drugs.
The accident was reported in the
Scarborough News
under the title
"BREAKING: Scarborough man dies in A64 crash"
(Monday 11th August 2014), though without mention of the name of the driver or the dead man. And there was no mention of drugs. The article concluded:
"Anyone who can help officers with their enquiries is urged to contact North Yorkshire Police on 101 – select option 2 – and ask for Traffic Sergeant Hamish Halloway."
Heeding that appeal for assistance, on 15th August 2014, I was able to pass further detailed information on the incident to the North Yorkshire Police.
On 11th September 2014, I received an email from the North Yorhsire Police which concluded:
"Please be assured that we will not withhold any information in relation to anyone being charged. Nobody has been charged in connection with this tragic incident, however should this change any information will be made public."
That was FOURTEEN MONTHS AGO.
Today, the York Press has published a brief article under the title "Driver faces drug charge over A64 crash that killed his friend":
"A MAN has appeared in court charged with killing his friend in an allegedly drug-fuelled road accident.

Christopher Backhouse, 25, of Oxcliff in Scarborough, appeared before York Magistrates Court, charged with causing the death of Alexander Barron while driving without due care and attention, under the influence of drugs on the A64 near Tadcaster, on August 11, 2014.

He will appear at crown court on Friday, December 4."
Scarborough Borough and North Yorkshire County Councillor Andrew BACKHOUSE, the father of the accused, was Mayor of Scarborough for the Council year beginning May 2013 and ending May 2014.
Would it be cynical of me to conclude that there may have been more than a little co-operation (some, more cynical than I, might say "collusion") between Scarborough Borough Council and the North Yorkshire Police to keep this case under wraps during Councillor Andy BACKHOUSE's reign as Mayor?
I think we should be told.