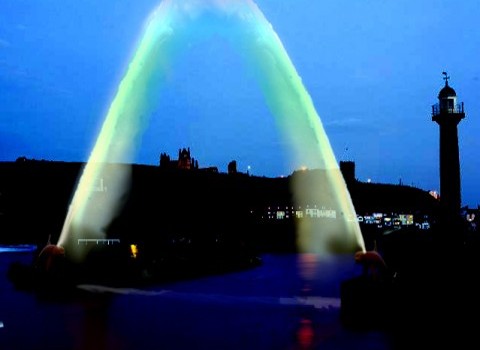 Whitby 'Jet d'Eau' Whaling Memorial
~~~~~~
One rare fine morning, at the beginning of July 2011, I was standing at the most north-westerly corner of the graveyard of St Mary's Church on Whitby's east cliff, admiring the unique view of Whitby's famous harbour mouth – scene of thousands of 'farewells' and 'welcomes' for Whitby's once-proud whaling fleet.
I say 'once-proud' because times have changed; we live in a rather more enlightened era.
Today, it is widely accepted that all the great sea-mammals – whales, dolphins, manatees and dugongs – are amongst our closes evolutionary relatives.
Thinking about this, and imagining the spouting of a whale as a statement of identity and liberty, I was reminded of another famous waterspout.
In the late 'seventies, and again in the early 'nineties, I lived for some months in the beautiful Swiss city of Geneva (Genève) on the shores of Lake Geneva (Lac Leman), where, directly in front of my apartment windows, spouted the celebrated 'Jet d'Eau':
The 'Jet d'Eau' is a magnificent 140-meter fountain, visible for miles by day and by night, when it is illuminated by constantly changing coloured lights.
So there I stood on the East Cliff, contemplating Whitby's whaling heritage and recalling the majestic 'Jet d'Eau' in Geneva. Then came my moment of 'inspiration'.
Imagine not one but two water fountains, rising from backs of two statues of whales situated on the 'bull-nose' platforms at the ends of the East and West Piers, and forming the world-renowned shape of the Whitby Whale Bones.
By night, visible for Blue Bank, Lyth Bank and the approaches to Whitby from the Scarborough road, this multi-coloured whalebone water-arch would look magnificent.
What could be more appropriate to Whitby?
Whale spouts forming the iconic Whitby emblem – the Whale Bones.
Even the word 'Jet' has an ineradicable association with Whitby.
And the 'bull-nose' platforms at the ends of the Piers have stood empty, as if awaiting a fitting tribute to magnificent creatures that provided the life's-blood of the town in days of the Scoresbys.
As a life-long composer of predominantly orchestral music, for film and television, and a director of community-films here in Whitby, I know from experience that it is all too easy to fall victim to being captivated by a momentary 'inspiration', only to find, on careful reflection, and after conferring with others, that the 'inspiration' is flawed and destined for 'the cutting-room floor'.
So I adopted the sensible course of floating the idea amongst a few friends and acquaintances whom I know have a specially love for Whitby.
Here are their responses.
"This is a wonderful tribute to the whales! Save The Whales supports your efforts to make this happen."


     – Maris Sidenstecker (Save The Whales. Los Angeles, California, USA)

"I have to say this would indeed be a sight worth seeing."


     – Councillor Sandra Turner (SBC. Whitby, North Yorks)

"The night picture of the harbour is superb".


     – Councillor Jane Kenyon (SBC & NYCC. Whitby, N Yorks)

"I think the project is beautiful – please make it into reality".


     – Birgitta Jónsdóttir (Member of Parliament. Rejkjavik, Iceland)

"I love it! Yes I would be very interested in making the whales to house the nozzles."


     – Darren Yeadon (Sculptor. Fishguard, Wales)

"Love the idea – how can I help?"


     – G.P.Taylor (Author. Scarborough, North Yorks)

"Looks really good. I will be looking into this further."


     – Michael Denny (Yorkshire Water. Harrogate, North Yorks)

"This is indeed a beautiful work of art".


     – Judith Dennett (Whitby Labour Party. Whitby, N Yorks)

"Would be a beautiful addition to Whitby…good luck and any help needed?"


     – Adrian Wilkinson (Conservationist and Broadcaster, Edinburgh)

"Great idea!"


     – John Parker (Artist, Paris. France)

"I have to say that is a very imaginative idea, I do wish you well with this project."


     – Allan Roberts (Mariner. Scarborough, North Yorks)

"Just simply stunning."


     – Carel Caine (Beautician. Castleton, North Yorks)

"As Director of the Bram Stoker International I would like to offer the full backing of the festival in your brilliant idea regarding the Whalebone water cascade in the harbour."


     – Mike McCarthy (Film and Festival Director. Saltburn, Cleveland)

"Your new project sounds beautiful. I wish I could see it 'live'."


– Milja Virtanen (Artist. Kotka, Finland)

"A fitting tribute to our close cousins."


     – Vanyatrap Yogi Desh (Healer. Katmandu, Nepal)

"Be amazing if they actually do it!"


     – Marc Ashken (Composer/producer. London)

"We would like to wish you all the best for your project."


     – Jane Wheeler (Whale & Dolphin Conservation Society. Sidney, Australia)
If you like my "Whitby 'Jet d'Eau' Whaling Memorial", please contact me, in the first instance by email, and let me know how you would like to help to make this uniquely Whitby project a reality.
Thank you for your time and for your consideration.
Nigel
Whitby. 31st July 2011
Readers may wish to listen to my "Whitby in Stone" Anthem, here: