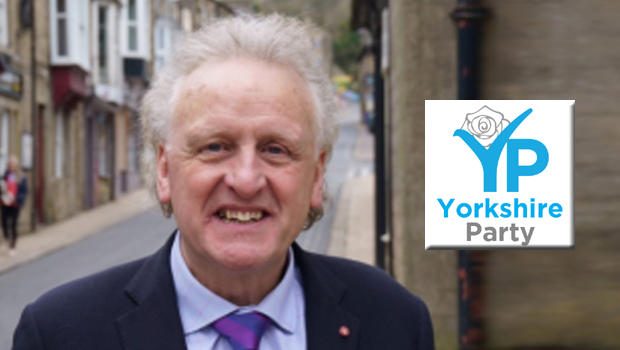 The NYE will be covering the North Yorkshire Mayoral elections which take place in May 2024. Keith Tordoff MBE is the first candidate to be selected by a Political party, with no Independents declared to date.
He has very kindly provided the NYE with a press release.
To ensure our coverage is comprehensive and impartial, we will publish press releases provided by each candidate and then interview them individually closer to the election.
---
PRESS RELEASE
Yorkshire Party aims for win in York and North Yorkshire Mayoral election 2024 with Keith Tordoff MBE
Keith Tordoff MBE has been selected by the Yorkshire Party as its candidate for Mayor of York and North Yorkshire in the 2024 election.
The party is aiming for a major breakthrough by winning the election, fielding a heavyweight candidate in a type of election where the personality and ability of the people standing has proven decisive in the past.
Mr Tordoff previously stood as an independent candidate in both 2021 North Yorkshire Police Fire Crime Commissioner (PFCC) elections, finishing in third place, only marginally behind Labour.
Keith served as a police officer, detective and specialist fraud investigator for banks, before becoming a successful businessman, growing million pound businesses in several sectors, from retail to mail order to property development.
He also has a strong record of involvement in the voluntary sector, serving as Chair of the Nidderdale Chamber of Trade and Chair of the Pateley Bridge Britain in Bloom Group, winning national awards with both. Keith is a Patron of Dementia Forward a registered charity based in North Yorkshire and was fundraiser of the year in the North for the Yorkshire Air Ambulance.
Mr Tordoff was awarded the MBE in 2018 for services to business and the community.
His priorities, as mayor, would be:
to make North Yorkshire an economic powerhouse: a place where businesses can thrive, and residents can find meaningful employment both in rural communities and in its cities.
improving transport links and connectivity, especially for rural communities.
making North Yorkshire a safer place to live, work and visit.
to make North Yorkshire a world leader in sustainability, while protecting and advancing its agricultural and fishing heritage.
Yorkshire Party co-leader, Dr Bob Buxton, said "Keith is the clear alternative to the Tories in North Yorkshire.  His experience, skills and passion make him ideally equipped to take on the complex challenges that come with being the first Mayor of North Yorkshire.  He is a man who sees the big picture but also has the critical skills to understand the detail and ensure that the solutions are the right ones."
Commenting on his selection, Mr Tordoff said "North Yorkshire deserves a strong, independent champion – someone who understands the county's needs and aspirations, and has the background and wealth of experience to deliver on addressing them. I will identify problems through listening to the people and turn things around, where needed, with a practical no nonsense business-like approach, driven by my passion and love for the county. Together, let's do it for North Yorkshire!"
ALL ENQUIRIES PLEASE CONTACT:
Keith Tordoff MBE: Tel. 07552 769000 (any time)