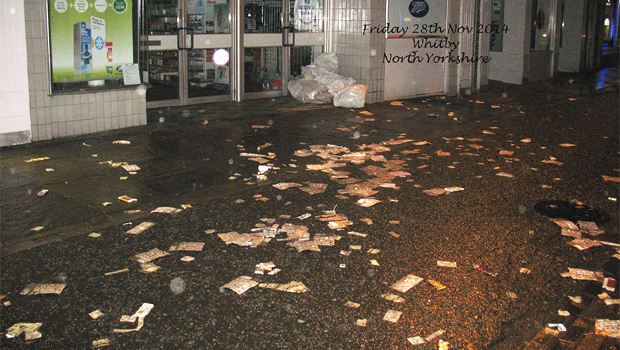 A Letter to the Editor from Whitby resident Peter HORBURY, drawing readers' attention to the present standard of Scarborough Borough Council's waste-collection service in Whitby – simply not good enough.
~~~~~
Dear Editor

I wish to draw your attention to one of my pet hates – litter.

I attach photographs taken on Baxtergate, Whitby, North Yorkshire this morning and a couple of others to stress the point.

Despite numerous, acknowledged, complaints via Twitter to Boots the Chemist, their practice (and that of other businesses) of depositing their 'bagged' rubbish outside overnight continues.

The results are appalling, as you can see from the pictures.

One serious incident was on the morning of 26th June this year when the fire brigade had to extinguish bagged rubbish outside the bookies on Golden Lion Bank.

This practice, in my opinion, has to stop.

Kind regards,

Peter Horbury
Peter HORBURY, Whitby. 28th November, 2014.