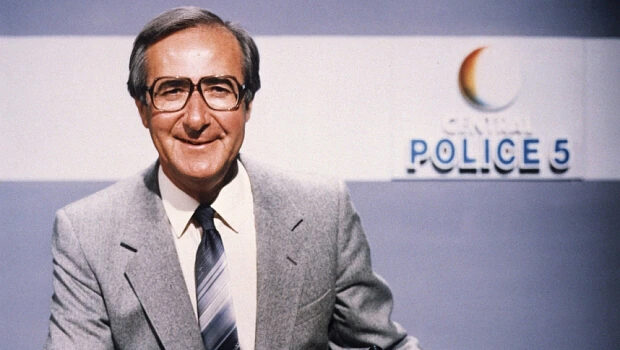 The NYE's Police 7 articles are intended to be a one stop shop for our readers covering crime prevention advice, court reports, police appeals for assistance, local community policing news, information on victim support, updates from the North Yorkshire Police (NYP) and the Police, Fire & Crime Commissioner (PFCC) for North Yorkshire and the Coroner.
Police 7 has been one of our most popular features with our readers, who appreciate getting regular updates from the police via the NYE.
We lead these articles with a photograph of the late Shaw Taylor, as a tribute to him. Shaw was a groundbreaking forensic journalist, who pioneered police media appeals for information in the programme Police 5. His work led to the successful conclusion of many casses in the UK, Europe and the United States through local programmes that followed the pioneering format of his original programme called Police 5 in 1962.
The NYE will continue to immediately publish urgent appeals for information from North Yorkshire Police (NYP), in missing person's cases, etc.
---
Police 7: Community Policing News April 2022
NEIGHBOURHOOD POLICING
The following witness appeals and court reports may be of particular relevance to our readers and can be accessed from the NYP website. Link below.
https://www.northyorkshire.police.uk/news/news-search
---
North Yorkshire's MOST WANTED
Kieran Cassidy, 35, is wanted in connection with a number of assaults. Despite numerous checks by Officers, he has not yet been located and is believed to be in Scarborough.
---
Witness Appeals
Criminal damage in Scarborough
NYP is appealing for witnesses after 24 vehicles were damaged at the Minstergate Hyundai garage on Seamer Road in Scarborough at around 7am on Saturday 28th May 2022. An unknown person has broken into a secure area behind the garage at Queen Margaret's industrial estate, which is to the rear of Scarborough football pitch and the Everyone Active Sports Village.
A total of 24 vehicles were intentionally damaged. All the vehicles have either had their front or rear windscreen smashed, wing mirrors smashed or panel work kicked and dented. The damage caused is thought to run into thousands of pounds.
NYP is appealing for information about anyone seen around the area of Minstergate garages on Seamer road, or around the Queen Margaret's industrial estate/rear of the Scarborough football pitch at around 7am. The suspect is believed to have been dressed all in black with a black hooded top.
Anyone with information that could assist the investigation, or has CCTV or dash cam footage is asked to call NYP on 101, select Option 2, and ask to speak to PC 681 CYRUS.
---
Woman attacked in Scarborough pub toilet
NYP is appealing to anyone who was in the Golden Last Public House, on Eastborough on the night of Wednesday 18 May to come forward after a woman was assaulted in the toilets at around 10.30pm.
It is believed that an altercation took place in the public area of the bar prior to the assault in the toilets. The victim sustained face and head injuries and bruising to her legs during the assault by two other women.
Anyone who witnessed any disturbance or altercation in the pub that night or witnessed the assault is asked to get in touch.
Please call North Yorkshire Police on 101, press Option 2 and ask for PC John-Simon Coleman.
---
Vandalism at Gladstone Road Primary School
NYP is investigating criminal damage to a decommissioned double-decker bus in the grounds of Gladstone Road Primary School on Wooler Street overnight between Friday 13th May and Saturday 14th May 2022.
Light fittings and a heater were damaged, but nothing is believed to have been stolen.
---
Dangerous Driver Arrested
NYP is appealing for witnesses and information following an incident of dangerous driving in Scarborough in the early hours of Sunday 15 May at around 1am, involving a blue Ford Fiesta being driven around Scarborough town centre at speed.
They would like to trace the person that brought the vehicle to the attention of officers who were on patrol in the vicinity of Valley Bridge Road. They are also appealing to anyone else who witnessed the manner of driving of the blue Fiesta or has captured the vehicle on dashcam or doorbell CCTV to get in touch.
An 18-year-old man was arrested on suspicion of aggravated vehicle taking, dangerous driving, driving whilst unfit through drugs and possession of cannabis. He has since been interviewed and released on bail while enquiries continue.
Anyone with information that could assist the investigation should contact North Yorkshire Police on 101, select Option 2, and ask for Dave Brant. You can also email dave.brant@northyorkshire.police.uk
---
Contact
Anyone with information is urged to contact North Yorkshire Police on 101, select Option 1, and speak to the Force Control Room.
If you would prefer to remain anonymous, please call Crimestoppers on 0800 555 111.
---
Court Reports
Scarborough knife robber jailed
Nathan Christopher Stone aged 28, of Barrowcliff Road, Scarborough, was sentenced at York Crown Court who carried out a shop robbery in Scarborough while armed with a knife has been jailed for six years having pleading guilty to robbery and possessing a bladed article in a public place.
Local man fined for animal cruelty
Christopher Barker, 45, from Brompton-by-Sawdon, has been fined £200, and ordered to pay a victim surcharge and prosecution costs totalling £334 for intentionally or recklessly disturbing a dolphin – an offence under the Wildlife and Countryside Act 1981. He was seen to drive his high-powered speedboat numerous times around a pod of bottlenose dolphins feeding close to the shore off Scarborough's South Bay.
Witnesses described how he corralled the dolphins causing the animals to panic and resulted in the group splitting up by circling the pod at excessive speed, leaving watching members of the public shocked and distressed. PC Graham Bilton, Wildlife Crime Officer for North Yorkshire Police, who investigated the incident, said:
"Dolphins are an intelligent, social species, often living in large communal groups. Over recent years sightings of dolphins off the Yorkshire coast have increased dramatically, proving popular with locals and tourists alike. But this has also led to an increased risk of human interference.

Cetaceans such as whales, dolphins and porpoises are especially susceptible to disturbance, both physically and acoustically, and are legally protected here in the UK.
I urge all boat and watercraft operators to act responsibly and respect the marine environment. We are extremely lucky in North Yorkshire to have such diverse wildlife. It's important that we enjoy, protect and live alongside it.
North Yorkshire Police is committed to investigating offences which have a detrimental effect on our wildlife, and I hope that this prosecution underlines that message."
NYP is very experienced in prosecuting wildlife crime. However, this is believed to be the first prosecution as a result of Operation Seabird a joint operation by the RSPCA, Police and the Marine Management Organisation to protect marine wildlife at sea. NYP is to be congratulated for successfully undertaking this ground breaking prosecution.
---
Crime Prevention: "Money Mule Fraud"
A "money mule" is a person who transfers stolen money between different countries.
They are recruited, sometimes unwittingly, by criminals to transfer illegally obtained money between different bank accounts.
They receive the stolen funds into their account and are asked to withdraw it and wire the money to a different account, often one overseas, keeping some of the money for themselves.
Even if you're unaware that the money you're transferring was illegally obtained, you have played an important role in fraud and money laundering and can still be prosecuted. Criminals will often use fake job adverts or create social media posts about opportunities to make money quickly, to lure potential money mule recruits.
Behaviours that put you at risk of becoming a money mule are:
Responding to job adverts, or social media posts that promise large amounts of money for very little work.
Failing to research a potential employer, particularly one based overseas, before handing over your personal or financial details to them.
Allowing an employer, or someone you don't know and trust, to use your bank account to transfer money.
How to protect yourself:
No legitimate company will ever ask you to use your own bank account to transfer their money. Don't accept any job offers that ask you to do this.
Be especially wary of job offers from people or companies overseas as it will be harder for you to find out if they really are legitimate.
Never give your financial details to someone you don't know and trust.
---
FORCE HEADQUARTERS
North Yorkshire Police fails child protection inspection.
Police forces are supposed to answer 90% of 999 calls within ten seconds. Currently,NYP is achieving that target 44% of the time. Assistant Chief Constable Lindsay Butterfield said:
"Whilst there are a number of factors which impact on the speed at which 999 calls are answered, we recognise that we are not staffed to meet our current elevated levels of demand and we are investing in a number of measures to make improvements and get calls answered quicker. This includes putting in place enhanced recruitment plans for more staff within our Force Control Room. We expect to have recruited 10% above our establishment by September 2022.

The dedicated team of staff who handle our calls within our Force Control Room work incredibly hard, in a very challenging environment. We will be recruiting for our next intake very shortly so if you or someone you know is interested in joining the team, please keep an eye on the jobs section of our website or register your interest via our vacancies page."