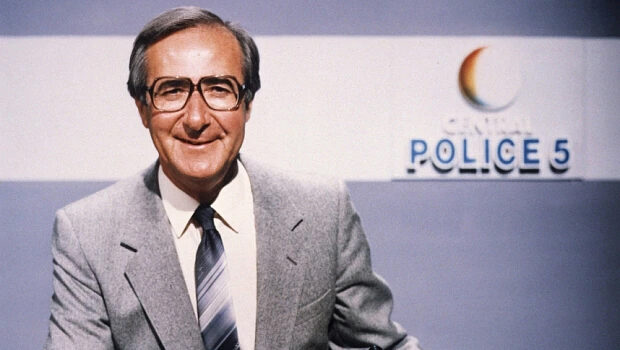 Police 7: Community Policing late-June '23
The NYE's Police 7 articles are intended to be a one stop shop for our readers covering crime prevention advice, court reports, police appeals for assistance, local community policing news, information on victim support, updates from the North Yorkshire Police (NYP) and the Police, Fire & Crime Commissioner (PFCC) for North Yorkshire and the Coroner.
Police 7 has been one of our most popular features with our readers, who appreciate getting regular updates from the police via the NYE.
We lead these articles with a photograph of the late Shaw Taylor, as a tribute to him. Shaw was a groundbreaking forensic journalist, who pioneered police media appeals for information in the programme Police 5. His work led to the successful conclusion of many casses in the UK, Europe and the United States through local programmes that followed the pioneering format of his original programme called Police 5 in 1962.
~~~~~
The following witness appeals and court reports may be of particular relevance to our readers and can be accessed in full from the NYP website. Address below.
---
Witness Appeals
Attempted Burglary at the Scaling Dam BP Filling Station
Shortly before 1am on Tuesday 20 June 2023, there was an attempt to burgle the Scaling Dam BP Filling Station, which is located on the A171 road, near Scaling Reservoir. During the attempted burglary, damage was caused to the rear door, security lighting and CCTV cameras.
Anyone who has any information, CCTV footage, or saw any suspicious people or vehicles in the area should contact email hayley.turner@northyorkshire.police.uk. Or call North Yorkshire Police on 101, select option 2, and ask for PC Hayley Turner.
Please quote the North Yorkshire Police reference number 12230113081 when passing on information.
If you wish to remain anonymous, you can pass information to Crimestoppers on 0800 555 111. 
---
Court Reports
Filey man jailed for sexual abuse
Following extensive enquires by Scarborough and Ryedale CID; detectives were able to secure 20 charges against David Peter Chamberlain, aged 37, now of Selby. These included five counts of rape, six counts of sexual assault, eight counts of sexual activity with a child, and one count of child cruelty. He was found guilty of 19 offences following a two-week trial at York Crown Court.
He has been jailed for 20 years and was also made subject to a life-time Sexual Harm Prevention Order. He will remain on the Register of Sex Offenders. Detective Constable Pete Day, who led the investigation, said:
"David Chamberlain has been proved to be a predatory paedophile who groomed his victims before subjecting them to sickening abuse.
Not only that, but he also callously maintained his innocence and put them through the additional trauma of re-living the abuse during the trial. 
Chamberlain has shown not one shred of remorse for what he has done. He has rightly been sent to prison for a considerable time and he will be subject to severe public protection measures for the rest of his shameful existence.
I have nothing but admiration for the bravery of the victims in this case. 
They have shown immense courage to stand up to their abuser and place their trust in North Yorkshire Police to secure justice for them. 
I truly hope they can now start to rebuild their lives and have a happy future. They deserve this more than anything."
---
Scarborough drug dealers jailed
Alfie Damien Bailey (22), of Maple Drive, J Lewis Glendinning (23), of Hatterboard Drive, and Joshua David Greaves (26), of Westbourne Grove pleaded guilty to being concerned in the supply of heroin and crack cocaine in Scarborough between August and November 2022. A fourth defendant, Brandon Hutchinson (20), of Aberdeen Walk, admitted to possession with intent to supply crack cocaine.
Detective Constable Darrel Temple, of the Operation Expedite team based in Scarborough, said:
"Class A drug dealers like Bailey, Glendinning, Greaves and Hutchinson cause untold misery in the Scarborough area. It's therefore satisfying they've been imprisoned for a significant amount of time.
They are prolific offenders, and it was only a matter of time before they found themselves behind bars again.
Instead, he chose to go straight back into drug dealing on his release from prison. Hopefully this time he will change his ways along with the others.
The Operation Expedite team is relentless in the pursuit of drug-dealers and drug-related crime in the Scarborough area and beyond.
Together with our community partners, we will not tolerate such criminal activity in our area."
---
Crime Prevention and Victim Support
Seeking further support, advice and ways of reporting child abuse:
Please contact North Yorkshire Police on 101. If you are in immediate danger, always dial 999 for an emergency response
Victims who would prefer not to go direct to the police and are not in immediate danger, can contact Bridge House, North Yorkshire's Sexual Assault Referral Centre (SARC), on 0330 223 0362, email sarc@nhs.net or go to bridgehousesarc.org/.
You can also contact Supporting Victims or call 01609 643100.
NSPCC Helplines:
Help for adults concerned about a child – call 0808 800 5000.
Help for children and young people – call Childline on 0800 1111.