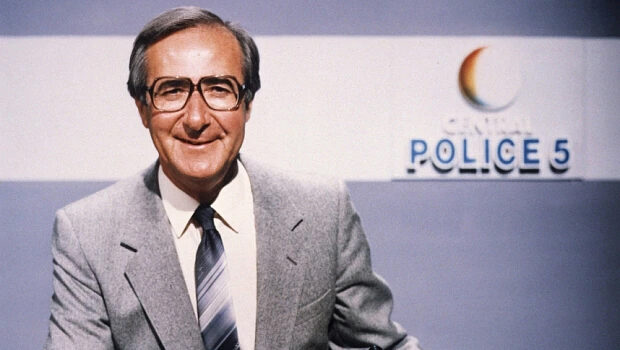 The NYE's Police 7 articles are intended to be a one stop shop for our readers covering crime prevention advice, court reports, police appeals for assistance, local community policing news, information on victim support, updates from the North Yorkshire Police (NYP) and the Police, Fire & Crime Commissioner (PFCC) for North Yorkshire and the Coroner.
Police 7 is one of our most popular features with our readers who appreciate getting regular updates from the Police via the NYE.
We lead these articles with a photograph of the late Shaw Taylor, as a tribute to him. Shaw was a groundbreaking forensic journalist, who pioneered police media appeals for information in the programme Police 5. His work led to the successful conclusion of many casses in the UK, Europe and the United States through local programmes that followed the pioneering format of his original programme Police 5 in 1962.
---
Police 7: Community Policing News late September 2023
The following witness appeals and court reports may be of particular relevance to our readers and can be accessed in full from the NYP website. Address below.
Witness Appeals
Child attacked in Scarborough
NYP is appealing for witnesses and information including doorbell camera footage after a 13-year-old boy was threatened by a man.
The incident happened at the junction of West Street and Prince of Wales Terrace at around 7.05pm on the evening of Wednesday 27 September.
The schoolboy was riding his bike and was wearing a green fluorescent helmet and black parka coat with a fur trim.
He was approached by a man who is described as wearing a black, padded coat and had ginger hair and a thin moustache. The man threatened the boy and told him that he had a knife, although he did not produce one.
Officers are appealing to anyone who witnessed the incident and to any residents in the area who may have captured the boy, the suspect or the incident on their doorbell cameras.
If you can help, please email james.moody@northyorkshire.police.uk, or contact North Yorkshire Police on 101, select Option 2, and ask for PC James Moody 1199, quoting reference number 12230183731.
---
Criminal damage to the South Stand of the Scarborough Athletic football ground.
At around midnight on 12th September 2023 four people entered the rear toilet block of the Scarborough Athletic football ground South Stand and caused damage to the facilities.
NYP is appealing for information about any suspicious behaviour or people seen near Scarborough Sports Village and the wider area.
Anyone with information that could assist the investigation should email 000709@northyorkshire.police.uk. You can also call North Yorkshire Police on 101, select Option 2, and ask for Stacey Begin. Please quote the North Yorkshire Police reference number 12230172675.
---
Assault in Filey
At about 4.55pm on Thursday 14 September 2023, a man and a woman were travelling in in their vehicle, a white Hyundai Tucson, on Muston Road, Filey, towards the town centre. The man was involved in a verbal altercation with the rider of a motorbike who was travelling immediately behind them.
During the course of the argument, the male victim was knocked to the ground by the motorbike rider. The victim suffered a dislocated shoulder and a broken arm.
The motorcyclist is described as male, wearing an orange jacket and black motorbike helmet.
Police are appealing for any witnesses to the incident, or anyone with any dashcam footage, to email thomas.barrie@northyorkshire.police.uk, quoting reference 12230174554.
---
Assault in The Waterhouse pub in Scarborough
Police in Scarborough are appealing for witnesses and information about an assault in The Waterhouse pub on St Thomas Street at around 12.45am on Sunday 10th September 2023.
The victim, a local woman in her 30s, suffered a broken nose which required hospital treatment.
The suspect is a white woman, possibly aged in her 30s, with long dark hair and she was wearing a white vest top, denim shorts, white Converse trainers and she has a distinctive tattoo on the back of her right leg.
If you know who she is or have any information that could assist the investigation, please email Jessica.Roebuck@northyorkshire.police.uk or call 101, select Option 2, and ask for Jessica Roebuck.
Please quote the North Yorkshire Police reference number 12230171410.
If you wish to submit information on any of these appeals anonymously, you can pass information to Crimestoppers on 0800 555 111.
---
Court Reports
Scarborough drug dealer convicted
Mark Alan Weaver aged 33, of Spreight Lane Steps, was suspected of supplying weights of cocaine in Scarborough, so the Operation Expedite team executed a search warrant on Saturday 9th September 2023. Searches were carried out and a substantial quantity of cocaine and cash were recovered from a vehicle linked to Weaver. Evidence that officers had gathered from call data and mobile phone examinations tied him to the offences.
Weaver appeared at York Magistrates' Court on Monday morning charged with being in possession with intent to supply cocaine, being concerned in the supply of cocaine, and possession of criminal property.
He pleaded guilty to all the offences which were committed between 30th October 2022 and 9th September 2023. He was remanded in custody and is awaiting sentencing.
---
 Crime Prevention
Punched Out Cold campaign
During One Punch Awareness Week (18th-2nd2 September 2023), NYP's School Liaison Officers held a series of special talks with secondary school students about the catastrophic consequences of one punch incidents.
The visits are part of NYP's 'Punched Out Cold' campaign backed by the One Punch UK charity. The aim is to help prevent tragic deaths and life-changing injuries resulting from momentary acts of violence.
As One Punch UK advises, it is always best to "stop, think and walk away" in such situations.
During the summer holidays, the campaign has targeted men aged 18 to 35 at pubs, bars, gyms and sports clubs. This aspect will be repeated during the festive period. You can read more about it here.
Attention has now turned to secondary school students, with education and awareness seen as key factors in positively changing behaviour in the long term. Sergeant Heidi Lewis, Children and Young People lead at NYP said: 
"Increasing awareness about one punch incidents is vitally important for everyone, but especially so for young people who may find themselves in potentially violent situations at some point in their lives.
During the visits, our police School Liaison Officers will highlight tragic one punch case studies and discuss various scenarios with the students.
We stress the fact that you risk seriously injuring someone if you raise a fist – even just one punch can prove fatal. There are also the consequences if you are found guilty of manslaughter and end up in prison.
One punch incidents can have a hugely destructive effect, on both victims and perpetrators and their families. The consequences can be devastating, completely altering the lives of all concerned." 
The school visits during One Punch Awareness Week are just the start of the education campaign, with one punch awareness sessions to be held throughout the school year. For more information go to the One Punch UK website https://www.onepunch.org.uk/
---