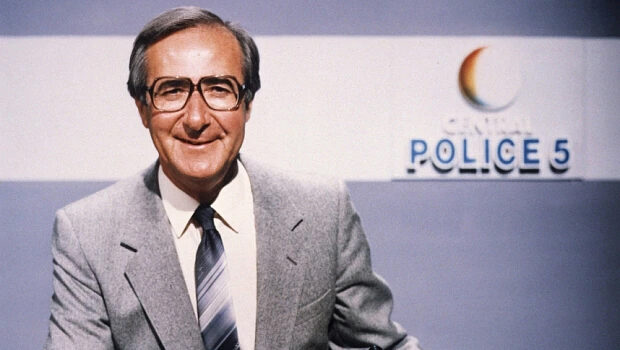 The NYE's Police 7 articles are intended to be a one stop shop for our readers covering crime prevention advice, court reports, police appeals for assistance, local community policing news, information on victim support, updates from the North Yorkshire Police (NYP) and the Police, Fire & Crime Commissioner (PFCC) for North Yorkshire and the Coroner.
Police 7 has been one of our most popular features with our readers, who appreciate getting regular updates from the police via the NYE.
We lead these articles with a photograph of the late Shaw Taylor, as a tribute to him. Shaw was a groundbreaking forensic journalist, who pioneered police media appeals for information in the programme Police 5. His work led to the successful conclusion of many casses in the UK, Europe and the United States through local programmes that followed the pioneering format of his original programme called Police 5 in 1962.
The NYE will continue to immediately publish urgent appeals for information from North Yorkshire Police (NYP), in missing person's cases etc.
---
Police 7: Community Policing News Aug/Sept '22
NEIGHBOURHOOD POLICING
The following witness appeals and court reports may be of particular relevance to our readers and can be accessed from the NYP website. Link below.
https://www.northyorkshire.police.uk/news/news-search
---
Witness Appeals
Scarborough fatal road accident
Shortly before 10.20pm on Sunday 11 September 2022 a grey 64 plate Range Rover had left Reasty Road which is also known as Reasty Hill between Slipho and Harwood Dale. A man was pronounced dead at the scene and a 38-year-old woman was also taken to hospital with serious injuries.
NYP is appealing for anyone who may have witnessed the incident, seen the Range Rover driving in the area beforehand, or who may have dashcam footage, to contact them on 101, select option 2 and ask for Nicola Peters
Scarborough indecent exposure
A man was exposed himself in public close to the old swimming pool in the area of the promenade on South Cliff on the morning of Saturday 27 August 2022 at 7.55am. The suspect is described as a white man in his 40s, with blonde/grey hair which was described as mop/messy in style.
Anyone with information that could assist the investigation should call NYP on 101, select option 2, and ask for Joe Daniel.
Whitby assault
About 5pm on Monday 15 August two men had a fight in the street on Windsor Terrace in Whitby. One man was taken to hospital to be treated for his injuries and the other was arrested by officers before being released on bail.
Anyone who witnessed the incident should call North Yorkshire Police on 101, select option 2, and ask for PC Nicholas Patrick.
Scarborough burglaries
Police have issued a CCTV image of a man they would like to speak to following a residential burglary on Longwest Gate at about 5.30am on Sunday 21 August 2022. Link to image here.
In an unrelated incident, a garage door in the Scholes Park Cliff area was forced open and a small off-road motorcycle was stolen.
Extensive police enquiries have led to the arrest of three 16-year-old boys and the recovery of the pit bike.
Anyone with information is asked to make a report via the North Yorkshire Police website or by calling 101.
With the evenings drawing in as we head towards autumn, NYP has issued key crime prevention advice.
Many people don't secure their garage or shed in the same way they do their homes – often using an easy-to-break lock or padlock to protect valuable contents such as a car, motorcycle, bicycle or lawnmower.
An opportunistic burglar will try a garage or shed first because they can find the tools they need to break into the main house.
NYP advises residents to:
Start to think like a thief. Take a good look at your garage or shed and consider how you would break in.
It's worth having a good padlock on the door with no exposed screws.
Pay attention to hinges, as these are sometimes easily removable. If you have windows, these could be vulnerable unless they're secured with wire mesh or grills.
Alarm it – if not wired to the house security system, consider a battery-operated garage or shed alarm. They look low key, but they respond to movement or door contact with an extremely loud siren.
Lock it, hide it or mark it – don't give burgulars the opportunity or the tools to commit a crime. Lock everything away securely. Tools can be locked inside a locker or box or secured with a chain.
Secure your motorcycle or bicycle to the ground or a lockable stand within a locked garage or shed.
It's always worth draping an old sheet or blanket over the top of mowers or bikes to keep them covered from view.
Property marking your items is advisable and some tools can be painted with your name or postcode. Forensic marking is also an option.
If you do fall victim to burglary, check that your home insurance covers the contents of your shed or outbuildings from theft.
Lastly, but most importantly, never leave your garage or shed door unlocked if you're not around.
---
Contact
Anyone with information is asked to make a report via the North Yorkshire Police website or by calling 101.
If you would prefer to remain anonymous, please call Crimestoppers on 0800 555 111.
---
Court Reports
The Operation Expedite Proactive Team have been very proactive indeed in Scarborough, as witnessed by a string of recent convictions for drugs offences.
Scarborough Cocaine dealer jailed
Aaron James Harris, aged 24, of Aberdeen Walk, Scarborough was sentenced to two years and eight months' imprisonment at York Crown Court for offering to supply cocaine.
Scarborough Heroin Dealer jailed
James Francis David Drydale aged 27, of Falsgrave Road, Scarborough was convicted of being in possession of heroin with intent to supply and jailed for four years.
Drydale was arrested following an anonymous tip-off which resulted in police tracking a black Audi TT car he was a passenger in, to an address in Cayton. Detective Constable (DC) Darrell Temple of the Operation Expedite Proactive Team said:
"The anonymous tip-off we received was acted upon very quickly and Drydale was located inside the address trying to escape through an upstairs window. Significantly, he had the drugs gripped in his hand when he was arrested. We literally caught him in the act.
This type of information from members of the public is the lifeblood of effective policing and successful investigations.
Once again, we have been helped to secure justice and take another drug dealer off our streets thanks to the excellent community support we have in the Scarborough area."
Scarborough Cocaine and Heroin dealers jailed
Richard Andrew Alleyne, aged 34, of Fearnville Road, Leeds, and Kyah Dalby, aged 26, of The Crescent, Bridlington, were both sentenced to four years' imprisonment at York Crown Court on the 9th of September 2022.
The men came to the attention of the police after a grey Audi A3 was reported by a Scarborough resident because a group of men standing around it appeared suspicious.
Alleyne, was wanted for other matters at the time, was later spotted by a plain clothed officer in Scarborough Town Centre before getting back into the Audi. Officers in an unmarked police car carried out an area search and located the car from the detailed description given by the resident to the Force Control Room on 101.
The vehicle was stopped on Castle Road and Alleyne was arrested from the rear passenger seat where a large quantity of heroin and crack cocaine was recovered. Dalby was subsequently arrested as part of a follow up investigation which included vehicle and property searches and examinations of mobile phones and other digital devices.
This was a classic case of god police work following a report of suspicious behaviour from a member of the public. The signs of drug dealing can include:
Increased callers at a property at all times of the day or night
Increase in cars pulling up for short periods of time
Different accents at a property
Anti-social behaviour at a property
Not seeing the resident for long periods of time
Drug-related rubbish – small plastic bags, syringes
Windows covered or curtains closed for long periods
Anyone with any information about suspected drug-related crime is urged to make a report via the North Yorkshire Police website or by calling 101. If you would prefer to remain anonymous, please call Crimestoppers on 0800 555 111
Indecency teacher jailed
Peter Andrew Holmes, aged 73, who taught English and coached rugby at the former Malsis School in the Craven District in the 1970s, 1980s and 1990s was convicted of 28 offences against pupils including indecent assaults and indecency with a child and jailed for 12 years.
Detective Constable Alison Morris of NYP's Non-Recent Abuse Investigation Team, who conducted the painstaking inquiry interviewed numerous witnesses and took dozens of statements from former pupils and staff connected to the school. She managed to track Holmes down to his new home in Bristol where she interviewed him for the first time in connection with the complaints. DC Morris said:
"Holmes is a systematic child abuser who used his position of authority as a teacher to prey on the victims who have bravely pursued justice against him. 
His reign of abuse at Malsis School spanned three decades. He has caused an enormous amount of trauma for the victims which they have endured from childhood through to the present day. 
I truly hope the conclusion of this case, with Holmes finally brought to justice and serving a significant prison sentence, they can begin to look to a future with hope and happiness in their lives."
Victims have been offered professional support for those who have suffered sexual abuse.
---
Crime Prevention and Victim Support:
NSPCC Helplines:
Anyone concerned about a child can contact the NSPCC Helpline for advice on 0808 800 5000. Adult victims of non-recent sexual abuse can also get in touch for support.
Childline is available for young people on 0800 1111 or at org.uk
North Yorkshire Safeguarding Children Partnership –www.safeguardingchildren.co.uk
City of York Safeguarding Children Partnership (CYSCP) –www.saferchildrenyork.org.uk
Victims who would prefer not to go direct to the police and are not in immediate danger, can contact Bridge House, North Yorkshire's Sexual Assault Referral Centre (SARC), on 0330 223 0362, email bridgehouse.sarc@nhs.net or go to www.bridgehousesarc.org/
You can also contact the Supporting Victims in North Yorkshire at www.supportingvictims.org or call 01609 643100.
---
FORCE HEADQUARTERS
Major operation by North West Regional Organised Crime Unit (NWROCU) in Whitby
This item is under force headquarters because it covers an operation by the NWROCU, which performs investigations into serious and organised crime on behalf of police forces in Cheshire, Cumbria, Greater Manchester, Lancashire, Merseyside and North Wales.
On the 3rd of August Detectives from NWROCU arrested nine men and a woman for a variety of offences including conspiracy to supply Class A (namely cocaine) and Class B (namely cannabis) drugs, money laundering and firearms offences as part of an investigation into drugs and firearms supply. Three of the men were from Whitby.
Detective Chief Inspector Mike Robinson from the NWROCU said:
"This morning's warrants in North Yorkshire, Cheshire and Greater Manchester are the result of extensive work we have carried out as part of an investigation we began back in December last year into drugs supply between Manchester and Whitby.
To date, we have recovered a significant amount of Class A and B drugs, over 30k in cash and a sawn-off shot gun with ammunition."
Detective Inspector Lucy McNeill, of Scarborough and Ryedale CID, said:
"We understand the terrible impact drug use and supply can have on communities and families. We will continue to work with law enforcement partners and the public to put a stop to this."
---