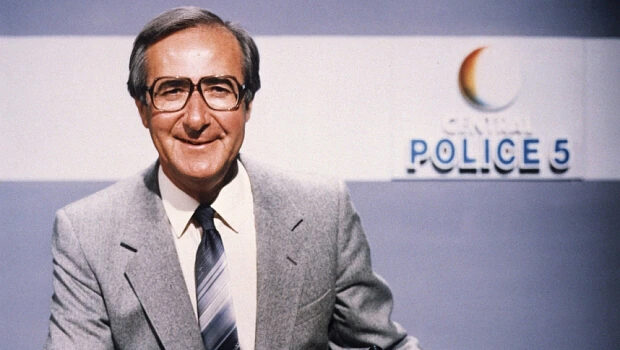 Police 7: Community Policing News August 2021
The NYE's Police 7 articles are intended to be a one stop shop for our readers covering crime prevention advice, court reports, police appeals for assistance, local community policing news, information on victim support, updates from the Police Fire and Crime Commissioner (PFCC) for North Yorkshire and the National Crime Agency (NCA).
We lead these articles with a photograph of the late Shaw Taylor, who pioneered police media appeals for information in the programme Police 5.
The NYE will continue to immediately publish urgent appeals for information from North Yorkshire Police (NYP), in missing person's cases etc.
---
NORTH YORKSHIRE'S MOST WANTED
Have you seen Stephen Anthony Phillips?
Stephen Anthony Phillips, aged 39 (pictured above,) is wanted for failing to appear at Scarborough Magistrates Court in connection with public order offences and resisting an Officer.
He is believed to be in the Whitby, Scarborough or Eastfield area.
Have you seen Alexander Standell?
30-year-old Alexander Standell has links to Scarborough and is wanted after being recalled to prison for breaching his licence.
Have you seen Owen Britton?
Nineteen-year-old Owen Britton is wanted after being recalled to prison for breaching his licence. He is believed to be in Scarborough or Whitby. Britton, is about 6ft 2ins tall with brown hair and blue eyes.
If you have any information which would assist officers to locate these men please contact 101, select option 1 and pass the information to the Force Control Room. Please quote reference 12210168455.
You can also contact Crimestoppers anonymously on 0800 555 111.
---
NYP APPEALS FOR ASSISTANCE
The NYE, in common with most local media outlets, is dependent on North Yorkshire Police (NYP) for core material on crime in the area. Because most of our readers do not read the NYP website (https://www.northyorkshire.police.uk/news/) the NYE is happy to disseminate information in summary format to our readers from NYP in these articles.
For local crime news, appeals and events from the NYP force website filtered for the Scarborough area, click here.
The following appeals may be of particular relevance to our readers:
Witness Appeals
31.08.2021: Threats made to pub staff in Scarborough.
29.08.2021: Fatal collision on Malton Road between Marton and Great Edstone.
26.08.2021: Fatal collision on A59.
25.08.2021: Appeal for witnesses following fatal collision on A64.
23.08.2021: Cyclist injured in Filey by driver that failed to stop.
19.08.2021: Scarborough appeal following black Renault Clio fail to stop collision.
16.08.2021: Fatal accident at Bickley gate, Langdale End, near Scarborough.
12.08.2021: Assault on Runswick Bay Beach.
10.08.2021: Sudden death of local man at Throxenby Mere.
09.08.2021: Man deliberately set alight in "unprovoked" incident in a Scarborough bar.
04.08.2021 Hand grenade defused in Scarborough.
Court Reports
18.08.2021: Scarborough man jailed for thirty-one years for child abuse offences.
10.08.2021: Thieves who forced their way into a home in Scarborough are jailed.
04.08.2021: Malcolm Barwick aged 68 sentenced for seven counts of sexual activity with a child.
Crime Prevention
31.08.2021: More than 40 suspected drunk drivers arrested last week.
---
NEIGHBOURHOOD POLICING
The NYP Neighbourhood Policing Team in Scarborough
The NYP neighbourhood policing team in Scarborough is led by Inspector Graham Kynman.
This page on the force website here gives information about the way Scarborough Neighbourhood Team operates in a multi-agency Community Safety Hub known as the Community Impact Team (CIT). Thus includes NYP Officers based in offices at Scarborough Town Hall.
The names and police numbers of the other members of the Scarborough neighbourhood team are detailed on the NYP force website here. Unlike other NYP neighbourhood teams, their photographs have not been published, which is unfortunate because it makes them appear more remote and less approachable to the public.
The NYE hopes this oversight will be rectified in due course, so that residents can put a face to their neighbourhood police officers and will continue to follow this issue.
Successful Scarborough Missing Person Investigation
On the 7th of August NYP issued an appeal on the force website concerning a 39 year old man who was reported as missing and was believed to be in Scarborough. I notified the NYE news desk straight away using the special procedure we have for urgent appeals.
I was pleased to receive an e mail back from the newsroom later that day that NYP had found him safe and well before we could even get the appeal up on the website.
NYP comment here
Missing person's enquiries are bread and butter work for neighbourhood policing teams. The NYE has been assisting the police by re-publishing the appeals for many years.
Our experience is that NYP performs this type of policing investigation very well and this represents another success for the force in this type of investigation.
---
COMMISSIONER'S CORNER
The Police, Fire & Crime Commissioner for North Yorkshire is Philip Allott (Conservative). The PFCC's website is here.
Plymouth Mass Shooting: Could it happen in North Yorkshire?
Following the terrible events in Plymouth on the 12th of August, where Jake Davison used a lawfully-held weapon believed to be a pump action shotgun to murder five people and then kill himself, I wrote to PFCC Allott and Chief Constable Winward asking for a media statement on the controls over firearms. I also asked for assurances that someone like Davison, -who despite having been accused of assault, had his firearm certificate reinstated by Devon and Cornwall Police and the weapon he used to commit these murders returned to him- would not be given access to a firearm by North Yorkshire Police.
Neither PFCC Allott or the Chief Constable responded.
The concern must be that the reason they did not respond is that NYP also follows a policy of not withdrawing firearms from people that have been charged with an offence and that an incident like the one that happened in Plymouth could occur in North Yorkshire.
It should also be said that this refusal to comment appears to me to be incompatible with the PFCC's duties of holding the police to account and reassuring the public. But I leave that to our readers to decide.
PFCC Allott on Policing Priorities in the Scarborough and Whitby area.
The NYE contacted PFCC Allott and asked him for any comment he had on policing priorities in the Scarborough and Whitby area for this article. Unfortunately he did not respond.
PFCC Allott launches Consultation on people's priorities for policing, fire and rescue and victims' services
PFCC Allott has launched a  three-month consultation on people's priorities for policing, fire and rescue and victims' services. Happily, although PFCC Allott does not respond to media enquiries from the NYE, he did send us an invitation to participate in the survey and this was duly disseminated to all members of staff in the NYE newsroom.
For those of our readers that wish to participate in the survey, details are available by following the link here.
Consultations with PFCC Allott
PFCC Allott will be holding consultations with members of the public, when he will be able to answer their questions. They will take place between 10.00 a.m. and 4.00 pm. The dates and locations for the September meetings can be found here.