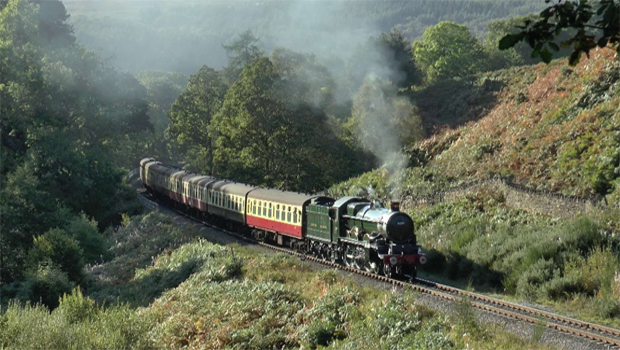 North Yorkshire Moors Railway Secures National Lottery Support
TIM HICKS reports:
Following on from our series of three articles on the North Yorkshire Moors Railway, I was delighted to receive an email from the NYMR's public relations consultants thanking us for our continued support. It described our MYMR coverage as "inspiring", particularly commending the photoons. Quite apart from the fact that it is always nice to have positive feedback, particularly from media professionals, this is an incredible milestone for the NYE. It's the first time that anyone who has been the subject of one of our photoons has written thanking us for our coverage!
The mail contained a Press Release from the NYMR announcing that it had secured National Lottery Support with a request in typically courteous terms asking whether we could run it. Recognising the importance of the NYMR to the region and being an internet news magazine that supports the local economy, I had no difficulty in obtaining permission from the NYE editor to run it and to give it high priority for scheduling.
The press release is below:
The Flying Scotsman at Pickering Station
North Yorkshire Moors Railway Secures National Lottery Support
"The North Yorkshire Moors Railway has been awarded £4.6M by the National Lottery. This funding will go towards NYMR's Yorkshire's Magnificent Journey, a £9.2M Sustainability Project aimed at securing the future of the railway.

 An award-winning visitor attraction steams across the Yorkshire Moors bringing delight to more than 350,000 passengers every year. John Glen, Minister for Arts, Heritage and Tourism said:

"The North Yorkshire Moors Railway is part of this country's rich railway heritage and this £4.6 million investment, thanks to National Lottery players, will help preserve it for generations to come. The Railway welcomes more passengers than any other heritage railway in the world and is a fantastic way to see Yorkshire's stunning scenery."

Keeping 18 miles of railway with more than thirty bridges through the difficult countryside of the North York Moors in top-notch condition is a continuing challenge for the NYMR Trustees. The 180-year old railway already invests around £1 million annually but there's only so much the fare box can generate and much more is needed for the railway bridges and its 50-100 year old vehicles to remain viable.

North Yorkshire Moors Railway, Trust Chairman, John Bailey, said: "Fifty years ago our founders had the vision and determination to re-open the North Yorkshire Moors Railway. Today we face a challenge of similar scale. We are extremely grateful for the support from the National Lottery.

With its backing, we can plan confidently both the implementation of essential projects and our appeal for the balance of funds required. This should ensure that fifty years hence, people will still be learning from and enjoying the experience of steam across the Moors."

The NYMR is owned and operated by a 10,000-member community-based charitable trust. It employs more than 100 people, depends on more than 1000 volunteers and contributes more than £30M per annum to the economy of the Moors and Coast.

Sir Peter Luff, Chair of the Heritage Lottery Fund, said:

"The North Yorkshire Moors Railway travels through some of the country's most impressive and beautiful landscape. We are hugely supportive of this project which will preserve the heritage of the line, allow people to enjoy the wonderful journey it provides and engage new groups in its management and conservation.  We are grateful to National Lottery players for helping raise this substantial sum of money and we hope many will come to Yorkshire to experience one of the world's leading heritage railways."

To deliver the investment programme, the NYMR must raise matching funds of £4.6M. With generous member bequests and anticipation to secure more grants, the NYMR will need to raise approximately £2.5M from members, passengers and the public over the next five years.

For further information and to pledge your support visit https://www.nymr.co.uk/ "
The NYMR in Winter
Yorkshire's Magnificent Journey
The lottery funding will go towards funding Yorkshire's Magnificent Journey. A program of investment in the infrastructure and the activities of the railway:
Renew and repair the worn-out iron bridges around Goathland, removing a threat to the NYMR's continued operation (£2.67M).
Provide a fuss free access carriage in every train, with ramps, loos and seating to easily accommodate the needs of all passengers, whatever their mobility (£770k).
Construct a covered stable for up to 40 carriages at Pickering, reducing decay and easing maintenance of the irreplaceable carriage fleet (£4.16M).
Better serve school groups and families with a dedicated education carriage at Goathland, building on success at Pickering and providing interpretation so visitors get more from their visit to a perfect country station (£330k).
Create a new volunteer hostel at Grosmont, providing decent facilities to encourage new volunteers including families and young people (£450k).
Develop initiatives to recruit new generations of volunteers to the line (£170k).
Build a railway apprenticeship programme (£470k).
Place a new emphasis on the care and management of the 18 miles of lineside (£170k).
Clearly this is a most impressive and comprehensive program of works. I was particularly pleased to see that he carriages will be protected by a purpose built carriage shed. This program is strategic for the NYMR, because it will help ensure it can continue to operate successfully for the next fifty years.
That means it is also strategic for Yorkshire. The NYMR gives pleasure to hundreds of thousands of visitors to the area, thereby improving the tourist trade and local prosperity. It has also been used as a film set for Downton Abbey and Dad's Army, giving millions of people pleasure from viewing quality TV programs.
It is a non- profitable charitable trust and fully accredited museum, providing memorable experiences for visitors through the operation of Britain's most popular heritage railway. The NYMR cares for and operates the railway it owns from Pickering to Grosmont and operates over Network Rail from Grosmont to Whitby. It is registered as an  Educational Charitable Trust, providing education for all ages by providing a high quality, safe and authentic evocation of the steam age for the public.
Now For the Tragic Bit
Along with the Press Release came an invitation for a representative of the NYE to attend as a special guest at Pickering Station on the 25th of September to celebrate 50 years since the formation of the NYMR Charitable Trust.
WHOOPEE! Having been a steam railway enthusiast since seeing one of the last steam trains at Bristol Templemeads in 1962, I realised my moment had come. Visions of hurtling through the North York Moors on the footplate of Sir Nigel Gresley at top speed instantly came to mind. Sad to relate, a quick check of the diary confirmed my worst fears. I cannot attend on the 25th of September………
The 'Sir Nigel Gresley'
All boys between the age of six and ninety five reading this article will instantly understand what a crushing disappointment this was.
After a period of deep disappointment, sadness and depression, I have nevertheless managed to get a grip of myself and return to work. The NYE hopes to cover the event on the 25th of September and will continue to support the NYMR and other local voluntary organisations.