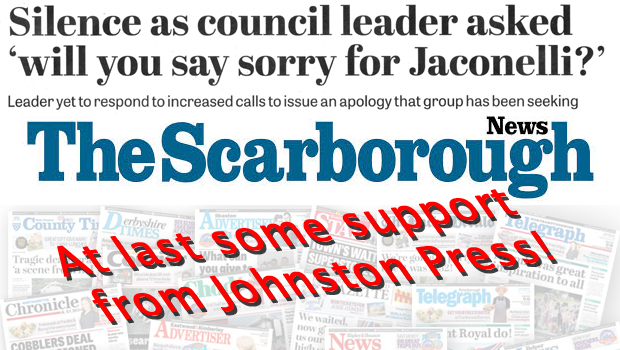 JACONELLI: Local Press Presses BASTIMAN
– an "In My View" article by NIGEL WARD, reporting on a welcome intervention by the Scarborough News, pressing SBC Leader Councillor Derek BASTIMAN for an answer to the burgeoning chorus of demands for an apology to the victims of predatory paedophile ex-Mayor Peter JACONELLI.
~~~~~
One sentence jumps out from the article on Page 11 of today's Scarborough News (20/07/15):
The Scarborough News this week asked Cllr Bastiman if he would apoligse[sic], and as of going to print, we have not had an official response.
On behalf of all the victims/survivors, I offer my thanks to Scarborough News reporter Ian JOHNSON for bringing this dreadful business to the attention of the wider public in the Borough of Scarborough.
Councillor BASTIMAN's determination to disregard the moral debt owed to the victims/survivors has led many impartial observers to the conclusion that there are those at Scarborough Borough Council who simply have no regard at all for the victims/survivors, or indeed for anything other than the reputation of the Council in general and of former Leader and incumbent Mayor Councillor Tom FOX, whose career with Scarborough Police placed him in a unique position to know what everyone in Scarborough knew.
There was a time, perhaps, when an appropriate personal apology from Tom FOX would have gone a long way towards putting this atrocious business firmly in the past.
Now, nothing less than a resignation will suffice – the only honourable option, if the honour of the Council is to be rescued.
cllr.derek.bastiman@scarborough.gov.uk,  cllr.rob.barnett@scarborough.gov.uk,  cllr.david.billing@scarborough.gov.uk, Cllr.Eric.Broadbent@scarborough.gov.uk,  cllr.liz.colling@scarborough.gov.uk, cllr.paul.cross@scarborough.gov.uk, cllr.gerald.dennett@scarborough.gov.uk,  cllr.carl.maw@scarborough.gov.uk, cllr.richard.moody@scarborough.gov.uk, cllr.neil.price@scarborough.gov.uk, cllr.tony.randerson@scarborough.gov.uk, Cllr.John.Ritchie@scarborough.gov.uk,  cllr.steve.siddons@scarborough.gov.uk, Cllr.John.Warburton@scarborough.gov.uk, Cllr.sam.cross@scarborough.gov.uk,  cllr.jonathan.dodds@scarborough.gov.uk,  Cllr.Colin.Haddington@scarborough.gov.uk,  Cllr.Norman.Murphy@scarborough.gov.uk, Cllr.Roxanne.Murphy@scarborough.gov.uk,  Cllr.Bill.Chatt@scarborough.gov.uk,  cllr.mike.cockerill@scarborough.gov.uk,  Cllr.Janet.Jefferson@scarborough.gov.uk,  cllr.dilys.cluer@scarborough.gov.uk,  cllr.mark.vesey@scarborough.gov.uk,  Cllr.Alf.Abbott@scarborough.gov.uk,  cllr.godfrey.allanson@scarborough.gov.uk,  cllr.andrew.backhouse@scarborough.gov.uk,  cllr.luke.backhouse@scarborough.gov.uk,  Cllr.Lynn.Bastiman@scarborough.gov.uk,  Cllr.David.Chance@scarborough.gov.uk,  Cllr.Guy.Coulson@scarborough.gov.uk, Cllr.Michelle.Donohue-Moncrieff@Scarborough.gov.uk,  Cllr.Tom.Fox@scarborough.gov.uk,  Cllr.Simon.Green@scarborough.gov.uk,  Cllr.Marie.Harland@scarborough.gov.uk,  Cllr.David.Jeffels@scarborough.gov.uk,  Cllr.Andrew.Jenkinson@scarborough.gov.uk,  Cllr.Hazel.Lynskey@scarborough.gov.uk,  Cllr.Helen.Mallory@scarborough.gov.uk,  Cllr.Jane.Mortimer@scarborough.gov.uk,  cllr.john.nock@scarborough.gov.uk,  cllr.clive.pearson@scarborough.gov.uk, cllr.heather.phillips@scarborough.gov.uk,  Cllr.Joseph.Plant@scarborough.gov.uk, cllr.roberta.swiers@scarborough.gov.uk,  Cllr.Martin.Smith@scarborough.gov.uk,  cllr.phil.trumper@scarborough.gov.uk,  Cllr.sandra.turner@scarborough.gov.uk,  cllr.callam.walsh@scarborough.gov.uk