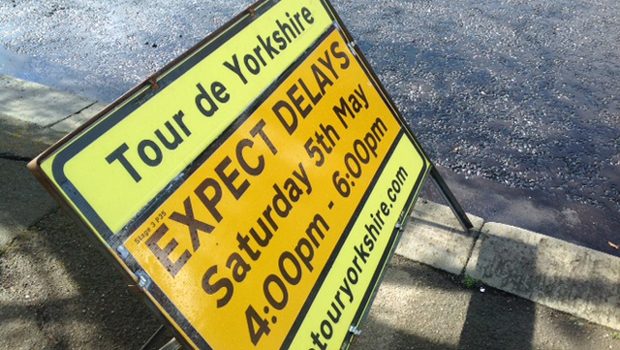 A Letter to the Editor form Borough and County Councillor Tony RANDERSON [Lab.] (Eastfield/Osgodby) from the other side of the 'people/administration' divide, following Kevin STAINTON's "Detour de Yorkshire" Letter of 19th April 2018, regarding the inferior state of 'off piste' highways in North Yorkshire in comparison to the immaculate, newly-resurfaced roads on the (televised) Tour de Yorkshire route. Shop-window dressing? Of course. Cynically misleading 600 million viewers or short-changing residents? What do you think?
~~~~~
Sir,
An observation from a Labour County Councillor on the scenario of Road Repairs and the Tour de Yorkshire shortly to once again bring traffic to a standstill throughout North Yorkshire.
There will be those reading this who are well aware of my views on this 'Push Bike Race' that receives top priority and financial assistance to ensure all goes smoothly for this one week-end event – finances that, in my view, would be better spent on front-line services where they are so desperately required.
Yours truly, a couple of days, ago travelled through to County Hall in Northallerton for a meeting. The route that I took, as always was via Thirsk and Sutton Bank, the route of this 'push bike race'. I was, I have to say, extremely impressed to note that, whilst driving, I didn't spot one pothole ( known to damage vehicles quite extensively), and I would hope not, too, because I certainly wouldn't wish to see any of the push bike contestants thrown off their respective bikes en route. So far so good.
I have to applaud the NYCC Contractors who undertook this work at no small cost to the County's taxpayers. Not only were these potholes and other repairs undertaken, they were finished off to a pristine standard – I hardly felt a bump at all when driving over these nice squares and rectangles of repair work, so again: so far so good, and just how I would expect a conscientious contractor working on behalf of NYCC to perform. If a job is worth doing, etc, etc.
However . . . !
If this very short time span of a push bike race deserves such care and attention to detail to ensure this route not only gives users a smooth ride and indeed is pleasing on the eye, just why is it the case that the same excellent care and attention to detail does not apply when undertaking very similar repairs to the county's roads on non Tour de Yorkshire push bike routes, where the standard is far inferior.
Such as recent repairs to my Division in Eastfield which, although very welcome – the offending potholes were filled in, but certainly were not given the pristine finish I noted on the Tour de Yorkshire route – the end result was more akin to an obstacle course where the vehicle you are in bounces over one raised mound to another where 'work' has been undertaken. The areas of the potholes here have not been cut out to extremely neat squares or rectangles as on the Tour de Yorkshire route and are certainly not smoothed out and perfectly flat.
This, in my opinion, is just not acceptable and (I hope I can be forgiven for believing) this is a classic case of inconsistency when highway repairs are undertaken.
Eastfield deserves the same care and attention as other areas of North Yorkshire and I have raised this with NYCC Highways to obtain an explanation as to just why Eastfield is being treated like a poor relation and unworthy of this attention to detail. I am currently awaiting a considered response on behalf of those I represent.
'What's Good for the Goose' is good for Eastfield and Osgodby residents, too!
Kind Regards,
Tony.
Tony RandersonLabour County Councillor
Eastfield & Osgodby Division
32 Ashville Avenue
Scarborough
North Yorkshire
YO12 7NF
Mob 07926 226904.Cllr.Tony.Randerson@northyorks.gov.uk