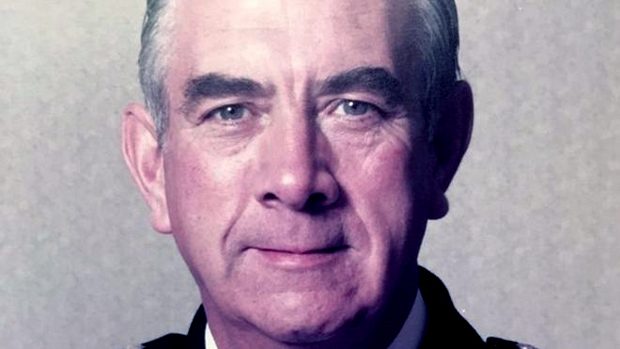 Death of Sir Lawrence Byford [Obit.]
By TIM HICKS
~~~~~
Following my review of the book "Yorkshire Ripper The Secret Murders" (which can be accessed via the link below):
Book review: Yorkshire Ripper The Secret Murders
I read with great sadness of the death of Sir Lawrence Byford CBE QPM DL LLB, who was the Chief Constable who conducted the investigation by HM Inspectorate of Constabulary (HMIC) into the failure of West Yorkshire Police to arrest Peter Sutcliffe the Yorkshire Ripper. The review was written prior to Sir Lawrence's death on the 10th of February 2018, but published afterwards on the 14th of February.
Sir Lawrence was unquestionably one of the most influential Chief Police Officers of the post-war era. His reforms caused significant improvements to policing in Britain, which are still present today.
BBC obituary here
Chief Constable Sir Lawrence Byford CBE QPM DL LLB.
A Chief Police Officer of great ability and integrity
After service in the Royal Corps of Signals during the Second World War, Lawrence Byford joined the West Riding Constabulary in 1947 as a Constable, serving in Uniform Branch and CID. He rose steadily through the ranks serving on the staff of the Wakefield Detective Training School from 1959 to 1962, and at the Police Staff College at Bramshill between 1964 and 1966.
In the 1960's, the British Police service was being reorganised away from small local forces into larger county forces to improve efficiency. The West Riding Constabulary was merged with the six borough forces for the county boroughs of Barnsley (Barnsley Borough Police), Dewsbury (Dewsbury Borough Police), Doncaster (Doncaster Borough Police), Halifax (Halifax Borough Police), Huddersfield (Huddersfield Borough Police), and Wakefield (Wakefield City Police) into West Yorkshire Constabulary. Bradford City Police and Leeds City Police remained as independent police forces. The Sheffield and Rotherham Borough Police forces merged into the Sheffield and Rotherham Constabulary but also remained independent.
By 1968, he was commanding policing in Huddersfield when he was promoted to Assistant Chief Constable of Lincolnshire Police, then to Deputy Chief Constable in 1970 and was Chief Constable there from 1973 to 1977. At this time he studied for, and obtained, a law degree.
In 1974, the West Yorkshire Constabulary was re-organised to incorporate Bradford City Police and Leeds City Police, but ceded Barnsley, Doncaster, Sheffield and Rotherham to South Yorkshire Police. Other parts of the former West Yorkshire Constabulary were ceded to Cumbria Constabulary, North Yorkshire, Humberside, Greater Manchester and Lancashire Police. The Force was also renamed West Yorkshire Police.
Chief Constable Byford joined Her Majesty's Inspectorate of Constabulary (HMIC) -the role he would become famous for- as a Regional Inspector of Constabulary in 1977. He was appointed Chief Inspector of Constabulary in 1983. During this time he was a visiting lecturer on democratic peacekeeping to the FBI and the National Police Foundation in Washington, the Army Staff College Camberley, the Scottish Police College and the Police Staff College at Bramshill.
Sir Lawrence was serving in the West Riding Constabulary during the amalgamation process and therefore understood the impact it had on the subsequent West Yorkshire Police investigation into the Yorkshire Ripper. He also had a close local knowledge of the areas that the ripper had operated in. In 1980 Home Secretary William Whitelaw appointed him to review and reorganise the Ripper investigation. To quote Chris Clark and Tim Tate in "Yorkshire Ripper The Secret Murders"
"Byford quickly spotted that the senior West Yorkshire Police management was not capable of running Britain's biggest manhunt: He side-lined the Chief Constable Ronald Gregory and brought in a new team to run the inquiry".
In 1981, Peter Sutcliffe was convicted of thirteen murders and seven attempted murders.  Assistant Chief Constable Jim Hobson of West Yorkshire Police who led the investigation can be seen defending the investigation and describing the criticism of it as "ridiculous" here. For those that are unfamiliar with the Yorkshire Ripper investigation, there is a very good documentary here. The same year, Sir Lawrence Byford was tasked by Home Secretary William Whitelaw with conducting an inquiry into all aspects of the investigation into the Yorkshire Ripper by his old force West Yorkshire Police.
The failure of the Yorkshire Ripper investigation, followed a previous major failure in the investigation into the murders of three sub post-masters and the heiress Lesley Whittle, which involved Lancashire, Shropshire, North Yorkshire, West Mercia West Midlands and the Metropolitan Police Forces and was bungled. This was due to rivalry between some of the forces involved and also a failure to manage the media properly. For those that are unfamiliar with the "Black Panther" (Donald Neilson) investigation, there is a very good documentary here.
Clearly, Sir Lawsrence was concerned that the same failures had occurred in the Ripper investigation and was determined that in the wider interests of the police service, this issue had to be addressed. He wrote in the report:
"Regretfully, some of these lessons were previously identified at the conclusion of the "Black Panther" case in 1975 but, in the light of the Ripper case, quite clearly the Police Service has not learned from them, particularly those relating to the management and control of a multi-force murder investigation."
Although he was originally an officer from West Yorkshire Police's predecessor forces, he did not allow this to influence his judgment and was impartial in his investigation. He was not afraid to criticise senior officers from West Yorkshire Police. A very fine CID Detective Andrew Laptew had recommended further in depth investigation of Sutcliffe and he was ignored. When Sir Lawrence investigated, he found the report had vanished. His comment on this was both illuminating and scathing:
"I cannot help concluding that one or other of the senior officers involved in these events is now loathe to accept responsibility for what, in effect, was a serious error of judgment." 
The report was delivered in 1982 and caused a storm of controversy. There were calls for "heads to roll" in West Yorkshire Police by MPs from all parties. Home Secretary William Whitelaw can be heard confirming in Parliament that Sir Lawrence Byford's report found that West Yorkshire Police made "major errors of judgment" in the ripper enquiry. Although Byford's report was accurate and impartial, Chief Constable Ronald Gregory can be heard afterwards defending the West Yorkshire Police investigation immediately after the Home Secretary criticises it. The Byford Report was so controversial, it was only made public in 2006.
Byford found there was an "unexplained lull" in the Ripper's activities between 1969 and 1975.
"We feel it is improbable that the crimes in respect of which Sutcliffe has been charged and convicted are the only ones attributable to him. This feeling reinforced by examining the details of a number of assaults on women since 1969 which in some ways, clearly fall into the established pattern of Sutcliffe's overall modus operandi…" 
"It is my firm conclusion that between 1969 and 1980 Sutcliffe was probably responsible for many attacks on women, which he has not admitted, not only in West Yorkshire and Manchester but also in other parts of the country…."
 He went on to deduce that Sutcliffe could have been responsible for a further 13 offences. Even now, this has not been satisfactorily explained or resolved.
As the lead force in the Ripper investigation, West Yorkshire Police still control this aspect of the Ripper enquiry, even though many of these offences took place in other force areas, not just Greater Manchester and West Yorkshire Police. The comments of ACC Hobson and Chief Constable Gregory above show the complete determination of senior officers from West Yorkshire Police to ignore the facts and refuse to admit any investigative failure by their force.
The investigation into which unsolved crimes were committed by Sutcliffe that the Byford Report initiated is still on going. According to this BBC Report, in 2016 detectives from West Yorkshire Police interviewed Sutcliffe in prison about 17 unsolved cases.  On the 12th of February 2018, West Yorkshire Police confirmed that they would not be charging Sutcliffe with any further offences. Yorkshire Post article: here.
I am concerned that unfortunately, the defensive approach demonstrated by ACC Hobson and Chief Constable Gregory above, appears to remain in West Yorkshire Police. Its recent investigation into its failure to arrest Jimmy Savile was widely criticised for perversely exonerating itself from any responsibility for its failure to arrest Savile. It displays the same ruthless determination to protect the reputation of the force no matter what. It must be a concern that this desire to protect the force's reputation and the reputation of its senior officers, may have tainted subsequent investigations into the remaining unsolved cases that Sutcliffe was suspected of.
I find it incredible that even now, we have no full picture of the full extent of Sutcliffe's offending. The closest we have come is from journalist Tim Tate and retired police intelligence officer Chris Clark. I fear we will never get to the bottom of this major case unless it is investigated impartially by a force that was not in any way involved in the original ripper investigation or any of the subsequent unsolved crimes that Sutcliffe is suspected of.
After the Ripper investigation, Sir Lawrence oversaw the implementation of many of the changes he recommended.
Until 1970 when there were many small forces without large specialist detective teams, major inquiries were handled by Scotland Yard. The lead Scotland Yard detective to control the investigation by using an indexed action book.
The process of mergers of small forces described above that led to the creation of larger forces like West Yorkshire Police changed that. The amalgamated forces were bigger and had the large teams of experienced specialist detectives that could handle investigations without calling in Scotland Yard. So county forces were performing the major investigations previously led by Scotland Yard Detectives. Inevitably they adapted their force system, thereby losing the national standardisation that had existed when Scotland Yard ran all major enquiries. Consequently, multi force investigations like the "Black Panther" and "Yorkshire Ripper" were hampered because officers working on another force's inquiry didn't use that force's procedures.
Sir Lawrence's report led to the to the introduction of a standardised cross referenced index card system across all forces in 1983 and the Association of Chief Police Officers (ACPO) standard manual procedures in 1984. This included standardisation of card index systems across all forces and the implementation of the HOLMES (Home Office Large Major Enquiry System) which revolutionised policing. It prevented the information overload in major enquiry incident rooms that had hampered the Yorkshire Ripper enquiry. The training of senior officers at Bramshill was also improved. Sir Lawrence oversaw these improvements, which are still present in the British Police Service today.
Sir Lawrence went on to be Chief Inspector of HMIC. He was a traditional policeman that worked his way up through the ranks, rather than being one of the managerial, high flying, image conscious, Chief Officers that the service seems to attract today.
As well as being a trained lawyer, he had the intellect and independence of mind to perform the Inspectorate role perfectly. I cannot help but muse on what an officer of Sir Lawrence's ability and integrity he would have made of the North Yorkshire Police (NYP) failure to arrest Peter Jaconelli and Jimmy Savile, the investigation by Assistant Chief Constable Sue Cross which denied any knowledge of Savile or Jaconelli, or Operation Hibiscus, none of which has ever been the subject of independent scrutiny, other than that provided by the NYE.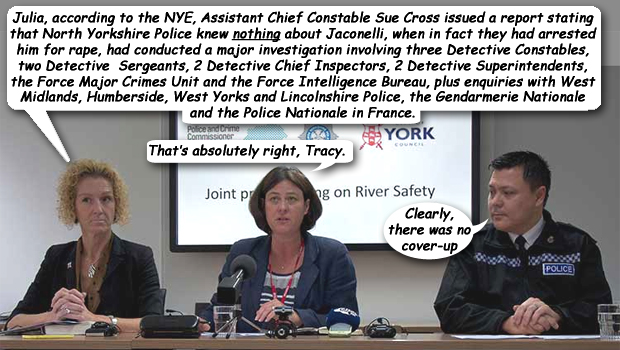 Coming next:
NYP and the Yorkshire Ripper